The Bruery - Saule (2017 Anniversary Ale)
ABV:

16.1%

Bottle Size:

750-ml

Serving Temperature:

55–62° F

Suggested Glassware:

Snifter, Tulip, or Pinot Glass
One of our two featured beers this month is The Bruery's nine-year anniversary ale, Saule. This massive, hugely detailed English-style old ale results from The Bruery's commitment to its Solera-style blending program, wherein a portion of each year's anniversary beer is saved in oak barrels and gets blended in with the subsequent year's fresh batch of old ale. The long-term blending results in many vintages of their old ale getting aged together, adding on layers and layers of complexity that's just incredibly hard to match otherwise. Each annual release goes a bit deeper in aggregate complexity, and we just love how Saule is tasting right now.
Saule was named after the French word for 'willow', which (along with pottery apparently) is a traditional gift for one's 9th anniversary. 700 initial cases of this beer were released in 2017, with another 150 cases allocated to select markets in early 2018. Aside from the few special events this beer has made an appearance at over the past two years, it hasn't seen any public availability since then. We've been tasting a lot from The Bruery's archives lately, and this in particular seems to be approaching a nice peak. (At 16%+ ABV, it's also ideal for sharing.)
Saule pours an especially dense, dark-brown color, extending into amber and cola tones. It has a surprisingly well-formed head given how substantial the ABV is; medium tan in color, nicely formed, with excellent lacing around the perimeter. Good amount of bubbles for an old ale of this magnitude! Slight light coming through at the edges. Zero doubt this is big.
Incredible amounts of caramel and dried fruit are apparent immediately in the aromatics, as are toffee, vanilla, underlying oak. Their Solera-style blending methodology certainly comes through in the overall character here, with tons of rich caramelization and aged, sherry-like character that's well balanced by some of the younger components in this blend. Those latter elements keep this beer from feeling too caramelized or top-heavy throughout. We found a fair amount of cola, brown sugar, licorice, and baker's chocolate, and the aromatics suggest there's also a fair bit of roast and char. The vinous alcohol warmth stays tucked to the side.
The Bruery has consistently been yielding exceptional beers from their Solera program, and this one's no exception. First sip is a captivating combo of caramels, burnt sugar, oakiness, and soft vanilla. Some modest, fine-bubbled carbonation provides nice liveliness and lift. If seemingly endless in layers—toffee, brown sugar, and warming red fruits—Saule manages a surprising amount of poise, with burnt caramels, baker's chocolate, and accompanying heat providing some nice balance to this seriously layered, blended old ale. It feels a little like one of those nested Russian dolls that have a smaller doll inside of them, but essentially going on forever. Careful balance. Exceptional generosity. The fact that this beer tastes this good and started being made the year that The Bruery first opened is a testament to the vision of this brewery, as well as to their ability to realize long-term projects across the course of almost a decade. Perfect for folks who enjoy vintage beer, and a wonderful show of aging's potential without going off the deep end (or, still going off the deep end but knowing how to swim).
Totally different profile than the Melange No. 9, but just as successful at creating a unique, beautifully assembled blend. We have yet to sample anything quite like either of these beers.
While Saule has already seen plenty of aging time, we expect this Solera blend to continue to age gracefully for quite some time. We tend to think of this as a nightcap beer, to possibly be paired with a creamy, Cameroon-wrapper cigar if you're into that sort of thing. We'd look to a peppery steak dish to match the beers's heft, or smooth vanilla desserts for a counterpoint.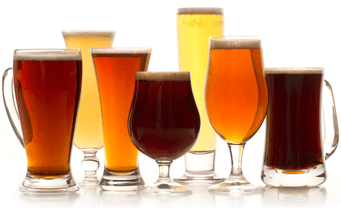 Unmatched Variety by style, brewery & country
Choose from Five different Beer Clubs offering unmatched variety by brewery,
country of origin, and beer style to suit your specific tastes.
DISCOVER OUR FIVE CLUBS