The Bruery - Sucré 2014 (Rare Beer Club Exclusive)
ABV:

14.5%

Bottle Size:

750-ml

Serving Temperature:

50–57° F

Suggested Glassware:

Chalice, Goblet, Tulip, or Snifter Glass
The Bruery's Sucré is a commemorative ale celebrating their sixth anniversary. Originally released to the public in 2014, Sucré is no longer available to purchase directly from The Bruery. We're pleased to be able to offer Sucré as a Rare Beer Club exclusive this month. This will be available only to our club members. The Rare Beer Club has exclusively procured a small number of cases of Sucré from deep within The Bruery's library and we're honored to continue our long-standing relationship with them.
Sucré's creation is one that pays homage to the rich English-style Old Ale tradition. A part of each annual anniversary ale is meticulously preserved within The Bruery's oak barrels, seamlessly blending with the forthcoming year's production. This process imparts unrivaled complexity and an evolving character that only deepens with the passage of time. Crafted with their signature Belgian yeast strain and refined through the time-honored solera method, it stands as a testament to the art of brewing. English-style Old Ales are characterized by a prominent malt presence and typically have a deep amber to dark brown color, and that is exactly what we saw in the Sucré. It poured with a lasting head made of light tan foam which left behind a bit of lacing after every sip.
As we put The Bruery Sucré up to our noses we discovered the wide range of malt-derived aromas co-mingled with pronounced brand-new American oak barrel notes including vanilla, caramelized brown sugar, toffee, and dark fruit. The experience continued with aromas of molasses, plump raisins, chewy figs, and luscious dates. We were further treated to signature aromas of new American oak barrels with wafts of toasted coconut and crushed dried dill.
The first sip of The Bruery Sucré confirmed what our olfactory senses alluded to with pronounced flavors of toasted vanilla, caramelized brown sugar and toffee, hints of whipped molasses, raisins, figs, and dates. A dollop of bittering hops added a bit of balance to the sweetness and gave a hint of dried fruit blossom to the overall flavor profile, which was surprising and welcome. This beer satisfied our tastebuds further as each sip unveiled a different layer of flavor showcasing the craftsmanship that went into its production. The combination of malts and use of barrels produced refined sweetness, palate coating textures, and unforgettable lasting impressions.
The Bruery Sucré exhibited a full-bodied mouthfeel with a creamy, finely bubbled mousse, that led to indulgent overall richness. The smooth finish was prolonged and velvety, with a finely layered texture.
English-style Old Ales are often allowed to develop their complexity over a prolonged period of time. This one is shining with age as it matures in the bottle where new complexities continue to emerge.
The potential for aging here is astonishing. Bottled at 14.5% abv in 2014 after beginning its journey six years prior, we can see this easily maturing for another five, seven, even 10 more years. Get as much as you can. Drink some now, drink some later, and enjoy all it has to offer as supplies are very limited.
Paired with hearty and savory dishes of roasted meats, rich stews, or strong cheeses and charcuterie, the combinations abound. We even recommend it alongside your favorite chocolate and caramel centric desserts.
The impact of The Bruery on the craft beer scene in Orange County, California, is undeniably impressive, but it only scratches the surface of their influence on the broader brewing landscape. What was once a somewhat perplexingly named, obscure brewery nestled in a quaint Southern California town has been transformed into a renowned institution, earning recognition from beer enthusiasts across the nation and around the world. Their journey has encompassed the expansion of an extensive barrel-aging program, the inception of the Bruery Terreux line of wild and sour ales, the establishment of their hop-focused sister brand known as Offshoot, and the eventual ascent to one of the most esteemed breweries in the United States.
Thanks to their boundless creativity and mastery of brewing techniques, The Bruery's beers remain, without question, among the most sought after in the industry. The pivotal moment came in 2009 when they unveiled a brew that sent shockwaves through the brewing community: Black Tuesday – an immense imperial stout boasting a staggering 20% abv, meticulously aged in bourbon barrels for well over a year. This extraordinary creation exuded profound oakiness, opulent richness, a velvety smooth texture, and an almost nourishing quality, sparking both fervor and an annual tradition. The clamor for this stout prompted enthusiasts to embark on journeys spanning hundreds, if not thousands of miles. Only select few breweries have matched The Bruery's ability to push the boundaries of the "limited release" concept, with annual vintages often selling out within a day.
Should you be traveling to SoCal, definitely swing by The Bruery's Tasting Room to check out what they're currently working on. We've been following the path of this brewery basically since they first opened, and the continued energy and innovation coming from these folks is inspiring. For more information on The Bruery, visit their website at thebruery.com.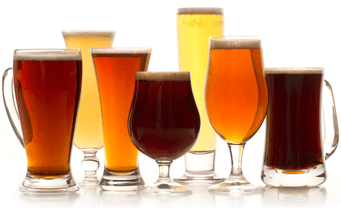 Unmatched Variety by style, brewery & country
Choose from Five different Beer Clubs offering unmatched variety by brewery,
country of origin, and beer style to suit your specific tastes.
DISCOVER OUR FIVE CLUBS