The Bruery - 2 Turtle Doves
ABV:

12.00%

Serving Temperature:

50-55° F

Suggested Glassware:

Snifter or Tulip
This unique brew pours the deepest possible shade of brown before black, however the turbidity keeps it completely opaque, giving the impression that it is black in color (it's not—it's a super-deep burgundy). It's capped by a deep tan colored head, finely bubbled, and massive at the start. On the nose look for notes of Belgian yeast spiciness, chocolate pudding, burnt toast and spicy, reedy, woody aromatics. We experienced a complex melange of aromas, many difficult to describe (but we'll try!)—conjured up images of tree bark steeped in rum, and notes of juniper berries. A bit raucous in its youth, it is quite boozy, but the alcohol is spicy and sits nicely in the mix of other Belgian spice notes. Defies style classification—you could just as well think of it as a "Belgian porter meets imperial spiced ale." On the palate, this beer drops an alcohol and yeast spice bomb that shrapnel-coats the palate in a rich, high viscosity brew that rapidly unfurls a very complex flavor profile. Bitter chocolate meets up with gin-like juniper & alcohol notes, the two dance upon cedar planks, eat rum cake & pureed figs, and wrap up the party with a quick shot of coffee. Recharged, the party starts again—this time with grape skins, tannins, lactic sour-and-tartness reminiscent of classic English "old ales", and a citrus rind style bitterness ushering in the finish. Expect long lasting after breaths of gin, rum, and dandelions/wild flowers. The beer offers a noteworthy balancing act between alcohol bite, tart acidity, and smooth chocolate sweetness. Despite evoking some "old ale" style flavor notes, it's currently quite a young beer, and a bit rambunctious at the moment. Something to behold as is, but this badass 2nd verse is going to hold up nicely and evolve radically over time—so by the time that 12th verse kicks in, this is going to be one helluva prized beer—oh wait, hang on, it hasn't even been released yet and it's already in high demand. Ahh, beer-geekery. Membership definitely has its privileges! You can throw this at some spicy Thai noodles, heavy on coconut milk and chilies, or pair with some 60%+ cocoa chocolates—then again, burying a few bottles in the backyard for the next 5-10 years and digging up circa 2019 ought to work too.
There is a certain amount of 'beer coveting' that goes on in today's age of limited release, one-off, über-specialty, craft beers. Depending on who you ask, this is a great thing that promotes rabid craft-brew devotion and gives ADHD-suffering beer geeks something to constantly look forward to. Others claim it drives up the cost of beer, leads to "over-hype" and inevitable disappointment from unrealistic expectations, potentially turning off better beer converts and disgruntling once hardcore devotees. We think it just offers a little something extra—creating another level of 'fandom' and appreciation among those who seek out these limited release beers, and an opportunity for brewery press via word-of-(foaming-at-the-)mouth, a highly valuable thing in an industry that, for the most part, does not advertise. And hell, it makes us feel like kids at Christmas again! Some breweries take the limited release concept to the next level by creating an entire series—Stone Brewing Company's "Vertical Epic" series for example (a different recipe beer released once per year for 12 consecutive years starting 02/02/02, then a year and a day later on 03/03/03, 04/04/04, continuing thru 12/12/12—or, just in time for the end of the world nine days later on December 21st, 2012, or so says the Mayan calendar, and Nostradamus, certain Asian philosophies, and various others 'sources.' A tiny, just-opened (May 2008) brewing outfit called "The Bruery", whose name is a clever but oft confusing combination of 'brewery' and founder Patrick Rue's last name, has an ambitious vertical release planned as well. Modeled after the verses of The Twelve Days of Christmas—last year's was their first, "Partridge in a Pear Tree"—this year's release is "Two Turtle Doves." The beer is brewed in limited quantities in famed Orange County, California, made only once, ever, and is designed to be enjoyed now, or, if you can wait, along side the other 11 in the series, which will wrap up in 2019. So, you know it's going to age well (assuming it—and we—survive that whole end of the world business – not to mention the Stone Vertical Epic tasting on 12/12/12, which will be a doozy in and of itself!). What we're really excited about is the fact that this limited release beer from this modish brewery will be served up to our members at least two weeks before the general public gets their grimy mitts on it—which is a pretty sweet deal for those of us who covet beer. For more information about The Bruery, check out their website at: www.thebruery.com or give 'em a ring at 714-996-MALT.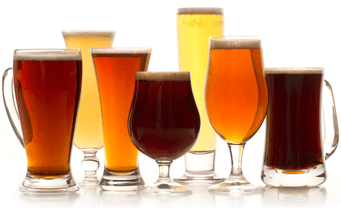 Unmatched Variety by style, brewery & country
Choose from Five different Beer Clubs offering unmatched variety by brewery,
country of origin, and beer style to suit your specific tastes.
DISCOVER OUR FIVE CLUBS