The Lost Abbey - Righteous Son
ABV:

10.75%

Bottle Size:

750-ml

Serving Temperature:

50–57° F

Suggested Glassware:

Snifter, Small Nonic, or Tulip Glass
We're pleased to have another Rare Beer Club exclusive this month from our friends at The Lost Abbey: a blended barrel-aged old ale Tomme & Co. assembled for the club. Righteous Son is a brilliantly presented blended beer overall—bringing forward complex sherry notes plus loads of deep dark fruit and caramelization. Bonus: this one also stays super drinkable.
Lost Abbey's Righteous Son pours a deep, dark caramel-brown color with reddish hints, a modest foam of light-tan bubbles capping things. Generous aromatics of dried dark fruits and dark caramel are immediately apparent in the nose, alongside some ripe red fruits and berry character. The aroma never overwhelms, bringing plush amounts of fruit and heat and restrained caramel throughout. Hints of plum and wine grape emerge as this warms.
There's a nicely enlivening presence of fine-bubbled carbonation to this old ale, giving more vibrancy and presence overall. There's so much going on that those bubbles do a lot of work giving this beer more space to express itself: the caramels, dates, dried cherries, subtle vanilla, and all the other good stuff going on here. Generous degrees of dried red and dark fruits are a key pillar to Righteous Son—providing a luxurious, fruit-leather-like undertone that brings all of those other components together seamlessly. It's a great counterpoint for the caramels, the licorice, the sherry, the subtly sweet vanilla and almond of the barrels… Essentially all of the other parts sync up into a streamlined expression that feels anything but 'old'. As lux as a Belgian quad or abt, there's just a ton of layers to dig into with this beer, but it remains super drinkable and deliberate in its expression overall. Lots of nuttiness and toast in a crisp finish.
This could certainly stand for a little more cellaring time, just make sure the balance doesn't get too sweet from further caramelization. For food pairings, we could see this alongside a Stilton cheese, or spicy roasted pork (given that caramelization), or on its own as a digestif.
Most of the beer geeks in our readership will instantly recognize the names "Port Brewing" or "The Lost Abbey", or "Tomme Arthur"—a gifted brewer associated with both. All have come to mean excellence in brewing along with envelope-pushing, boundary-testing beers.
Walk into the original Pizza Port location in Solana Beach, CA, about 25 miles north of downtown San Diego, expecting to take in what the wellspring of San Diego's craft-brewing scene 'looks like', and you might be confused. You'll find rows of picnic-style benches for mass seating, plus an informal, order-at-the-counter pizza place staffed by primarily college-aged kids who seem like they might be taking a short break from surfing to take your food and drink order. Looks can be deceiving, though. Were it not for the brewing vessels visible behind the counter or the eclectic list of beers and style/flavor descriptions above the beer-order counter, you might think this place was a 'Budweiser and Coronas & lime only' place. Instead, you see everything from younger crowds to families with kids in tow, all chowing down on great oven-fresh pizzas and drinking pitchers and pints of some truly world-class beers. All served with that distinctly Californian laidback demeanor.
So how did it come to pass that a basically beach-front pizza shop started making some seriously high gravity, intense, world-class beers? The founders and owners of Pizza Port, Gina and Vince Marsaglia, set up shop in Solana Beach 20+ years ago in 1987, and Tomme Arthur started working there as head brewer ten years later (they've since opened up various additional locations—each with amazing beers and food). A native San Diegan, Tomme was proud to promote his hometown as an up-and-coming center for better beer, with his own work right at the forefront of that claim. While his professional brewing career had started less than 18 months prior to joining Pizza Port, he had already worked on a beer with his former employer that brought San Diego its 2nd gold medal ever from the Great American Beer Festival. In his ongoing efforts to promote San Diego as a great beer city, Tomme worked to create many unique beers, and his ongoing experiments included revolutionary techniques of oak-aging beers, incorporating fruits, herbs and spices along with numerous wild yeasts and micro-organisms. Each of these experiments further emboldened him to try new processes as he and the brewers of Pizza Port Solana Beach "sought to make the most interesting beers possible." During the eight-plus years that Tomme was head brewer in Solana Beach, the brewery won 13 Great American Beer Fest medals. In 2003 and 2004, Pizza Port Solana Beach was named Small Brewpub of the Year.
So what then is "The Lost Abbey?" The concept started in Vince Marsaglia's mind when he was inspired by the various Abbey beers he had tried from Europe. When Tomme Arthur joined the crew, he started brewing beers that were Belgian- and Abbey-inspired creations. Of course, to be an Abbey beer, though, you need an Abbey. And while one might argue Tomme Arthur is the head of a beer cult comprised of followers approaching quasi-religious devotion, there's no actual religious organization affiliated with these beers. Hence, these are a line of beers inspired by Abbey and Belgian traditions, but with no actual Abbey (leading us to... The Lost Abbey). Since many of Tomme's most revolutionary creations fell into this loose theme, a number of the beers brewed under the Pizza Port or Port Brewing name have been moved over to their new home in The Lost Abbey lineup. For more information about The Lost Abbey and the Pizza Port restaurants, visit lostabbey.com and pizzaport.com.
Rare Beer Club's founder Michael Jackson (arguably the world's greatest beer writer) was a big fan of Tomme's beers, and the club featured a number of those early Pizza Port releases (Cuvee de Tomme, SPF 8 Saison, etc.). We think that Michael would've loved this month's Rare Beer Club exclusive from Tomme & Co.: a barrel-aged old ale called Righteous Son.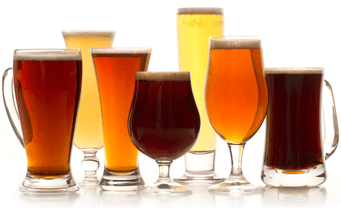 Unmatched Variety by style, brewery & country
Choose from Five different Beer Clubs offering unmatched variety by brewery,
country of origin, and beer style to suit your specific tastes.
DISCOVER OUR FIVE CLUBS