The Spencer Brewery - Trappist Imperial Stout
ABV:

8.7%

Bottle Size:

750-ml

Serving Temperature:

52–58° F

Suggested Glassware:

Goblet, Snifter, Tulip, or Pinot Glass
We've been enjoying everything we've crossed thus far from Spencer Brewery—but Trappist Imperial Stout blew us away. Described as (approximately) an "Anglo-Russo imperial stout," it offers the drinkability and hugely complex malt range of the finest Belgian strong ales, and adds in the delicious roast and bitter-chocolate qualities of some of the tastiest American and Russian-style imperial stouts. There's a surprisingly firm hop bitterness here, amplified by the dark roastiness, and yet the careful ferment and spicy Belgian-style yeast character puts it on a whole different level than most imperial stouts we've sampled lately. Hugely unique stuff.
Spencer's Trappist Imperial Stout is a seasonal beer with pretty light distribution; only about 390 cases (12x 750mL bottles) were sold in 2020.
One might think this was a Belgian beer from that first pour, as it offers a brilliant dark-cola color and perfectly built, medium-tan foam. The head formation's stellar, and we still don't often see that degree of sturdy foam stateside. It lasts through most of the experience, and leaves well-structured lacing in its wake. The caramelization and peppery aromatics pour out of the glass even from a couple feet away: rich caramels, cola and chocolate; dark roastiness; plenty of spice. The impact of the darker malts becomes more apparent up close, with those bitter chocolate and cocoa qualities pushing this deeper into imperial-stout territory. There's a subtle touch of mint and herbaceous hop character—and this stays plush, mouthwatering.
We've relaxed our frequency of imperial-stout selections as of late, partly because there's been a certain sameness to the examples we've been tasting lately. Intense bitter chocolate and roast can become overly taxing in abundance; we've been holding out for a particularly fresh take in this space. Leave it to the monks… Spencer's Trappist Imperial Stout brings a ton of nuance to the fore, combining a wide-ranging malt spectrum and ideal fermentation character to create one of the most effortlessly drinkable imperial stouts we can recall. This one disappeared from our glasses during our sample tastings, and the diversity present in the malts kept us savoring every sip: dense roast and dark chocolate, for sure, but also loads of rich caramelization, toffee, chocolate cake, cotton candy, and coffee. As this warmed up, we kept finding additional malt flavors tucked in, and a lively but tempered carbonation brings out the aromatics without making this feel at all fizzy or sharp. The texture's just right.
And that's just the malt focus. The Belgian-style yeast characteristics add extra nuance that take this imperial stout up another few notches: warming spices and pepper, some notes of smooth almond and vanilla, even hints like cinnamon and nutmeg, if we're really digging in. The complete package makes for one of the most appealing imperial stouts we've had in a long while, and, if this is a sign of what lies ahead for the Trappist breweries, we can't wait.
For many of us lovers of craft beer, our first foray into the world of Belgium's amazing ales came after stumbling across one of the famous Belgian Trappist monastery beers produced by Chimay, Westmalle, Orval, Rochefort, Achel, or, less likely due to its typical absence on these shores, Westvleteren. However, not all of the Trappist breweries are actually located in Belgium, and several new Trappist breweries have opened around the world in recent years. There are now fourteen certified Trappist breweries, all of which are located in Europe, with the exception of this month's featured brewery—Spencer Brewery, which opened in 2013.
So what is a "Trappist" anyway? "Trappist" is the common term for the monasteries of the Cistercian Order of the Strict Observance, which encompasses dozens of monasteries from around the world. The monks live according to the Rule of St. Benedict, which dates to the 6th century and emphasizes prayer and work. As such, for over six decades the Trappist brothers of St. Joseph's Abbey in Spencer, Massachusetts have produced jams & jellies for sale to the public to support the monastery as well as their charitable assistance to the disadvantaged. In recent years, one of the monks took an interest in brewing and trained at a local brewery. Inspired by him, more monks began to share his interest in brewing—a tradition among monastic communities dating back to the Middle Ages. For two years they gathered info and took multiple trips to visit existing Trappist breweries. Starting with Westmalle and finishing at Sint Sixtus (Westvleteren), the brothers toured around Belgium learning all that they could from their fellow monks—the producers of some of the greatest beers in the world.
Upon completion of their educational travels, the monks of St. Joseph's voted overwhelmingly to launch their own Trappist brewery—America's first! Following Trappist tradition, they named their brewery after the abbey's home of Spencer, Massachusetts. In addition to traditional abbey-style beers, the monks produce styles not typically associated with Trappist breweries, including an IPA (with German and American hops), a German-style Pilsner, a Vienna-style lager, and, one of our featured beers this month, their exquisite Trappist Imperial Stout. For more info on the Spencer Brewery and their collection of beers, head over to spencerbrewery.com. To learn more about the various projects the monks in Spencer are working on, visit spencerabbey.org. And for more on the Trappist beers and monasteries in general, check out the International Trappist Association at trappist.be.
Trappist Imperial Stout is potent, unpasteurized and unfiltered, so don't be afraid to give it a year or two in the cellar to see how things develop. That said, it's drinking great fresh. With a combo of caramel and dark malts (including coffee), we'd be inclined to try this with skirt or flank steak, grilled with a slightly spicy rub. Alternatively: buttery, vanilla-driven desserts.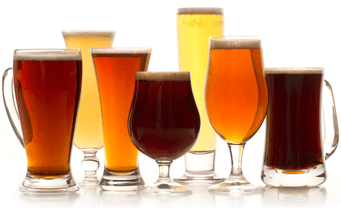 Unmatched Variety by style, brewery & country
Choose from Five different Beer Clubs offering unmatched variety by brewery,
country of origin, and beer style to suit your specific tastes.
DISCOVER OUR FIVE CLUBS