To Øl - Black Malts & Body Salts
ABV:

9.9%

Serving Temperature:

45–52° F

Suggested Glassware:

Tulip, Snifter, Small Nonic or IPA Glass

To Øl's Black Malts & Body Salts currently sees only very light distribution in the U.S., with only around 150 cases to be allocated nationwide this year outside of the Rare Beer Club. While the brewery's managed to increase its distribution internationally, allocation remains patchy, and we're thrilled to be able to get our members access to this standout offering from To Øl. Regarding Body Salts, the brewery notes: "When a brewer is stirring the kettles while steam arises from the mash and when we actually do put some effort into our work, an occasional drop of sweat will drip down into the mash. So this is a salute to all the hard working proletarian brewers around the world." This beer also incorporates french-pressed coffee.
You can tell pretty early on that this beer isn't messing around... Black Malts & Body Salts pours slightly viscous, deep chocolate brown in color, with edges that turn golden. At 9.9% there's a fair bit of alcohol present, and the medium-brown foam is only lightly retained. A rich aroma headed by bitter chocolate and piney, herbal hops kicks things off, highlighting the engaging core attributes going into this imperial black IPA. (Imperial Chocolate-Brown IPA? Close enough.) The coffee addition is woven seamlessly into the malt foreground, as further notes appear of licorice, anise, cocoa powder and a tiny helping of milk chocolate.
Where many black IPAs don't bring quite enough to the table, To Øl's Black Malts & Body Salts is incredibly generous, even for an imperial black IPA. The carbonation's on the quiet side overall, just enough, allowing the dual foci of intricate hopping and dense maltiness to play out here. Potent herbal, piney and mineral bitterness leads, and the overall maltiness is more of a debittered black malt core supported by notes of licorice, dark chocolate and just a touch of cocoa. This steers clear of sweet, caramelized notes in favor of the darkest of malts.
Despite the debittered-black-malt note, make no mistake—this is potently bitter. Rich cocoa, licorice and dark fruits are lifted further by those hop attributes, and there's almost a toasted-marshmallow feel that manifests once the bitterness normalizes. There's espresso and coffee roasted qualities intermingled too, but don't necessarily think of this as a coffee beer, as that special addition isn't the dominant structure here. This? This is a world-class black IIPA.
The hops on this one will fall off relatively quickly—so we'd encourage our Rare Beer Club members to pop bottles of this one fresh. That's true for the wide majority of hop-forward options, and anything with both "imperial" and "IPA" in its description will have even more to lose. We tend to drink such things first. For pairings... That combo of piney, herbal hops and dark malts probably doesn't need additional complications, and we'd be inclined to put this next to creamy, vanilla-focused dessert courses: vanilla-bean ice cream, or maybe (with that coffee addition bubbling as a secondary note) it could work great alongside affogato.
Starting a brewery is a massive capital investment, and some entrepreneurs (often homebrewers making beer in their kitchens) are looking to get their creativity into the game without all the crushing debt that stainless steel can carry. So a number of brewers do not have their own breweries these days—and they've still done some amazing things for beer. Some have lovingly taken on the familiar category of "gypsy brewers", as they hop from place to place making their brews. And beers coming out of this model have proven some of the most intriguing beers to hit the scene.
In 2005, Danish brewer Mikkel Bjergsø of eventual Mikkeller fame was teaching at a college in Denmark. Two of his students, Tore Gynther and Tobias Emil Jensen were chatting him up about the fact that most Danish breweries were producing lackluster beers, focusing almost exclusively on a century of tradition rather than newfound creativity and expression. The three of them agreed that the only way to get beer of the quality and caliber they sought would be to brew it themselves—basically the identical conversation had by so many brewers, be they from the 1970s, 80s, 90s, 00s, or today, in markets where good beer is scarce. And rather than just talk about it, they hatched a plan. Soon they were allowed to borrow the school's kitchen during the off hours, where they began to brew. This meant that most of the brews were made between the hours of 10 pm and 6 am on weekdays, which resulted in some hard school days for the two pupils as well as their teacher, but the hunt for quality and potent beers had begun.
The experiment had important results. The following year, Mikkel started Mikkeller, which quickly garnered worldwide global acclaim, while Tobias and Tore continued to craft brew privately for the next four years. In 2010, they believed that they, and their recipes, were ready, and founded To Øl (Danish for "Two Beers"). Word spread fast and as Mikkel heard his old students' plans, he insisted on making a collaborative brew between Mikkeller and To Øl, which became the first beer released by To Øl – Overall IIPA. Ever since, To Øl has continued to brew beers that push the boundaries of beers. We love it when a plan comes together.
Their approach remains to always use the best raw materials, never make compromises with taste, and not to follow fashion or style trends. Basically, to always have an open mind, and their brewing approach has enabled them to focus on the beers and remain nimble. With about seven years of operation behind them, they've gained significant critical acclaim within the craft beer scene, and have put out an impressive number of beers overall. RateBeer.com has named To Øl to its Top 100 best breweries in the world list on multiple occasions, and this gypsy brewery manages to now export beer to 40+ countries around the world. To Øl's brewpub BRUS opened last year in Copenhagen with its own on-site production, giving visitors a great way to experience their unique interpretation of beer. For more info on the brewery and their latest projects, head over to their website at www.to-ol.dk.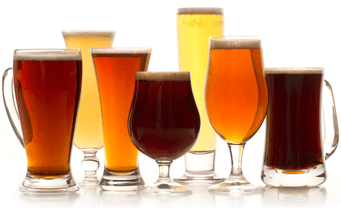 Unmatched Variety by style, brewery & country
Choose from Five different Beer Clubs offering unmatched variety by brewery,
country of origin, and beer style to suit your specific tastes.
DISCOVER OUR FIVE CLUBS