To Øl - Chateau Øl
ABV:

10.4%

Bottle Size:

750-ml

Serving Temperature:

42–48° F

Suggested Glassware:

Tulip, Chalice, or Chardonnay Glass
Chateau Øl from To Øl was created in the spirit of a Belgian-style tripel, using various wine yeasts to ultimately ferment the beer and provide a nicely dry, peppery core to things. This was brewed at De Proef Brouwerij in Lochristi-Hijfte, Belgium, which members may recall as being a frequent brewer of Mikkeller's out-there (but dialed-in) creations. This beer uses Hallertau Blanc hops both for a kettle addition and dry-hopping—"to produce the grape, pear-like flavours we desired." The net affect, particularly with the hops contributing in the flavor, is something else. There's a clean base of Pilsner malt, and a touch of flaked rye.
To Øl's Chateau Øl pours a vibrant coppery orange in the glass, capped by richly developed off-white foam. Excellent head retention and nice lacing left behind. A deliciously candied orange character is the first note we caught in the aromatics: ripe and accompanied by the caramelized sugar and toasty clove forming the core of this beer. The wine yeasts that this employs were "aimed at replicating a crisp wine", and while the above notes tend to veer to the sweet-minded side, there's an enormous amount of restraint shown in how those notes are presented here. Lots of tempering surroundings with sourdough, pepper, and spice.
That zesty orange approach continues in the flavor, as this brings a ton of impressive fruit character balanced by the peppery, clove-like impacts from the yeast. The flaked rye provides some additional bready-spice impact, and the Hallertau Blanc hops appear to take on a larger role in the flavor, bringing passionfruit, pear and bitter grapefruit. A lot of chewy bitterness present, and the dry profile overall courtesy of the wine yeasts leaves this feeling quite lively: full of citrus and tropical fruit, suffused by Belgian-style bitterness like clove and pepper (as you'd expect from a tripel), nicely caramelized throughout without coming across as heavy or cloying. We found a whole lot to enjoy about here, from that first approach of generous orange spice, to the long-lasting finish of bright lemon, grapefruit, and fresh-cut herbs. It's a nicely creative and well-executed take on the Belgian tripel, and stays super lively at 10%+.
Given the rather potent ABV and overall profile, we expect To Øl's Chateau Øl to continue to develop quite smoothly over the next year or two, if not longer. This feels sturdy and well put together for some cellaring time; just don't let the balance get too sweet. For pairings, we would look to the effervescence and deep orange for something like duck or roasted chicken dishes with accompanying citrus. This is going to be a particularly versatile beer for pairings.
Starting a brewery is a huge capital investment, and some entrepreneurs (often homebrewers making beer in their kitchens) are looking to get their creativity into the game without all the crushing debt that stainless steel can carry. So a number of brewers do not have their own breweries these days—and they've still done amazing things for beer. Some have lovingly taken on the familiar category of "gypsy brewers", as they hop from place to place making their brews. And beers coming out of this model have proven some of the most intriguing beers to hit the scene.
In 2005, Danish brewer Mikkel Bjergsø of eventual Mikkeller fame was teaching at a college in Denmark. Two of his students, Tore Gynther and Tobias Emil Jensen, were chatting with him about the fact that most Danish breweries were producing lackluster beers, focusing almost exclusively on a century of tradition rather than newfound creativity and expression. The three of them agreed that the only way to get beer of the quality and caliber they sought would be to brew it themselves—basically the identical conversation had by so many brewers over the years in markets where good beer is scarce. And rather than just talk about it, they hatched a plan. Soon they were allowed to borrow the school's kitchen during the off hours, where they began to brew. This meant that most of the brews were made between the hours of 10 pm and 6 am on weekdays, which resulted in some hard school days for the two pupils as well as their teacher, but the hunt for quality and potent beers had begun.
The experiment had important results. The following year, Mikkel started Mikkeller, which quickly garnered worldwide global acclaim, while Tobias and Tore continued to craft brew privately for the next four years. In 2010, they believed that they, and their recipes, were ready, and founded To Øl (Danish for "Two Beers"). Word spread fast and as Mikkel heard his old students' plans, he insisted on making a collaborative brew between Mikkeller and To Øl, which became the first beer released by To Øl – Overall IIPA. Ever since then, To Øl's been making beers that push brewing boundaries. We love it when a plan comes together.
Their approach remains to always use the best raw materials, never make compromises with taste, and not to follow fashion or style trends. Basically, to always have an open mind—and their brewing approach has enabled them to focus on beer quality while staying nimble. With nine-plus years of operation behind them, they've gained significant critical acclaim within the craft beer scene, and have put out an impressive number of beers overall. RateBeer.com named To Øl to its Top 100 best breweries in the world list on multiple occasions, and this small brewery manages to now export its beers to 40+ countries around the world. To Øl's brewpub, BRUS, opened back in 2016 in Copenhagen with its own on-site production, giving visitors a great way to experience their unique interpretation of beer. For more info on the brewery and their latest upcoming projects, head over to their website at www.to-ol.dk.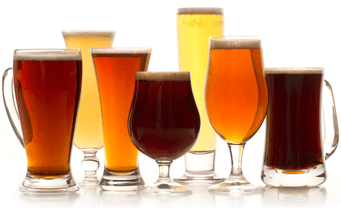 Unmatched Variety by style, brewery & country
Choose from Five different Beer Clubs offering unmatched variety by brewery,
country of origin, and beer style to suit your specific tastes.
DISCOVER OUR FIVE CLUBS