To Øl - Shameless Santa
ABV:

10%

Serving Temperature:

49–56° F

Suggested Glassware:

Snifter or Bordeaux glass
We previously featured To Øl's Sans Frontiere a couple years back (and not so long after the brewery had first opened): a 7% hoppy pale ale with Brettanomyces added. This time, and to line up more appropriately with the beer styles we most enjoy sipping during the winter, our Rare Beer Club members are in for a seasonal treat: To Øl's massive, 10% Shameless Santa.
(10% ABV. 100% shameless.)
For us this felt like the perfect kind of beer to toss in the cellar for a bit and pour into some sort of snazzy snifter once the outside temperatures took a nosedive. 'Shameless' is one way to put it. Unabashed is another. For us, it felt about as generous as the concept of a big jolly gentleman trying to squeeze down one's chimney to bring one some sweet wrapped-up loot. Do go easy on this one, and keep in mind that the large format and high alcohol make this a perfect beer to share with friends and family over whichever holiday you choose to celebrate. Sipping this out under the stars on the winter solstice (December 21 this year) seems perfect.
Perhaps closest to a Belgian-style quad, To Øl's Shameless Santa seemed better placed inside the broader category of that country's strong ales. This pours a caramel-golden color, topped by an off-white head that persists as a thick ring of finely packed bubbles. There's more head retention here than a lot of Belgian-style quads (and despite that hefty alcohol). Its aroma has a full-on impact of caramelized and burnt sugars, with a velvety undertone of fruity alcohols, toffee, and soft spices best approximating clove and white pepper. Be sure to let it warm up.
What specifically sets this apart from many of the quadrupels we've tasted over the years can be readily noticed upon first sip: there's potent bitterness here. Along with the contributions via the burnt sugar notes, we got firm, hop-based citrusy and spicy qualities—an accentuated bitter edge that works with the pepper and fruity warmth to keep this feeling quite lean. Sort of, you know, like a certain chimney traveler—it involves a bit of magic. The angle of hops is juicy, playing off the candied and caramelized qualities here and bringing To Øl's Belgian-ish winter seasonal around to something we found to be unique, generous, and hugely satisfying.
Shameless Santa, despite the gregariousness of the jolly dude himself, sees rather little distro stateside. We made sure to get some allocated for our members for this holiday season—in fact, we're taking about 90% of what's being imported this year. This should stand up reasonably well in one's cellar, but we do encourage folks to sample the hop aspects while this is fresh. Try this alongside vanilla custard, or a graham-cracker cheesecake.
Starting a brewery is a massive capital investment, and some entrepreneurs (usually homebrewers making beer in their kitchens) are looking to get their creativity into the game without all the crushing debt that stainless steel carries. So a number of brewers do not have their own breweries these days—and they've done great things for beer. Some have lovingly taken on the title of "gypsy brewers", as they hop from place to place when making their brews. Is this the coming of the "gypsy apocalypse?" If it is, bring it on, because the beers coming out of this model have been some of the most important beers to hit the scene in the past several years.
Widely regarded as the grandfather of gypsy brewing (though he's still a pretty young guy), Danish brewer Mikkel Bjergsø of Mikkeller fame has made a name for himself and better beer around the world—all without a brewery to call his own since going pro in 2006. Just a year earlier, Mikkel was teaching at a college in Denmark. Two of his students, Tobias Emil Jensen and Tore Gynther were chatting him up about the fact that most Danish breweries were producing lackluster beers, focusing almost exclusively on a century of tradition rather than newfound creativity and expression. The three of them agreed that the only way to get beer of the quality and caliber they sought would be to brew it themselves—basically the identical conversation had by so many brewers, be they from the 1970s, 80s, 90s, or these days, in markets where good beer is scarce. And rather than just talk about it, they hatched a plan. Soon they were allowed to borrow the school's kitchen during the off hours, where they began to brew. This meant that most of the brews were made between the hours of 10 pm and 6 am on weekdays, which resulted in some hard school days for the two pupils as well as their teacher, but the hunt for quality and potent beers had begun.
The experiment had important results. The following year, Mikkel started Mikkeller, which has garnered worldwide global acclaim, while Tobias and Tore continued to craft brew privately for the next four years. In 2010, they believed that they, and their recipes, were ready, and founded To Øl (Danish for "Two Beers"). Word spread fast and as Mikkel heard his old students' plans, he insisted on making a collaborative brew between Mikkeller and To Øl, which became the first beer released by To Øl – Overall IIPA. Ever since then To Øl has continued to brew beers that push the boundaries of beers. To quote Hannibal from the A-Team, we love it when a plan comes together…
Their approach remains to always use the best raw materials, never make compromises with taste, and not to follow fashion or certain styles. Basically, to always have an open mind. And part of that open mind could be applied to understanding that they do not have their own brewery. In fact, they do much of their brewing at Belgium's De Proefbrouwerij (where Mikkeller brews a number of their beers, in fact). It's enabled them to focus just on the beer, and remain nimble and agile. In just about four years of operation, they've gained critical acclaim within the craft beer scene, and have put out an impressive number of beers.
By Ken Weaver
The first time I met Tore Gynther, one of the founders of this month's featured To Øl, was down in Brazil of all places. (Though perhaps "of all places" isn't correct, given the meteoric rise that country is currently seeing when it comes to craft beer.) Tore, Mikkel (of Mikkeller), and I were in for the Wikibier Festival in Curitiba, which footed the bill for my travel down. This column isn't spacious enough for a full rundown of the trip—but there's one particular aspect that I keep thinking back to, particularly as of late. I hadn't really talked about this for a while (secret collab planning, and all that), but there was one afternoon that we'd spent on a hunt for new ingredients in the main market supplying the restaurants all around Curitiba.
For all the unique ingredients craft brewers have put into their kettles and fermenters so far, that industrial market held the future: massive rows of concrete stalls, vegetal clippings over everything, and Brazilian produce far beyond recognizable stuffs like sweet and sour passion fruits, kumquats, and prickly pears. There was the green pinecone-like fruta do conde (or sugar apple). The lychee-like center of purple-rind mangosteen. Every stall afforded new possibilities, and I'd spent the weekend chatting with Brazilian brewers looking closer at local ingredients.
On a personal slant, I recently stepped aside from my editor-in-chief post at RateBeer Weekly, having helped build that publication up to over 130,000 subscribers. I've been asking myself what comes next for a while now: both for myself, and for this rather magical industry that I get to cover. I finally have a better sense of both, and I'll just say that those experiences very far away in Brazil are something I go back to. While U.S. breweries will continue to do great work and take us to new places, the broader future of craft beer lies far beyond our borders.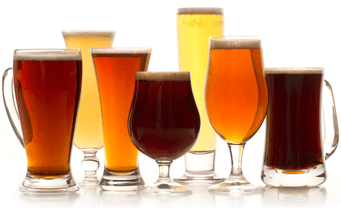 Unmatched Variety by style, brewery & country
Choose from Five different Beer Clubs offering unmatched variety by brewery,
country of origin, and beer style to suit your specific tastes.
DISCOVER OUR FIVE CLUBS