Upright Brewing Company - August IPA
ABV:

7%

Serving Temperature:

50–57° F

Suggested Glassware:

Tulip, Nonic, Pinot, or IPA Glass

While we make a point to partner up with some of the greatest brewers on the planet for our exclusive offers, the beers that get made for the first time exclusively for our Rare Beer Club members always have a bit of welcome mystery to them. The first time we get to try the end result (of what's often a couple months of batting ideas back and forth, figuring out a good approach that combines a brewery's particular strengths with what we expect will intrique a good swath of our Rare Beer Club members), is something special. Upright has always made an impact on us for their beautifully drinkable saisons and rustic ales, along with a deft usage of hops, and this riff on a Belgian-style IPA truly brings the best parts of the saison and IPA styles together in a way that we've been seeking for The Rare Beer Club for a while now. The end result, courtesy of the great folks at Upright, is everything we'd anticipated and more.
It's not very easy to get us to the tippy-top level of beers we're really excited about. But here, the juicy fruit from the hops and Juicy Fruit bubble-gum character from the fermentation are perfectly matched into the central notes of this beer—touching on tree fruit (limes, for sure), sweet orange, zesty grapefruit, and even edging onto some floral notes, which seem to come from a lot of directions at once. The aromatics are mouthwatering, pulpy. The best of citrus character without sharp acidity, the aroma notes feel like they've been fluffed up with lemon juice mist. The nose is refreshing, spacious, and it certainly forecasts that dense citrus ahead.
Because this is a massively hoppy beer. Not in any way assaultive bitterness, but still a huge display of hop-derived flavors and aromatics shaping so much of August IPA: pithy citruses, from pomelo to mandarin oranges, expanding to encompass limes and lemons as secondary notes of similar volume—plus all those other things. There are highly endearing sweet floral notes where the fruits leave off, along with softer pine and herbs. But the hops never weigh heavy, and a well-carbonated, spritzy texture and streamlining note of pepper and acidity via the yeast do wonders to shape this. Notes of peach appear as this warms. Apricot. Almonds. Just a touch of alcohol underneath, quietly making this all seem that much more streamlined.
Do make a point to get this one in front of some beer-minded friends, particularly the ones (bless their foresight) who always tend to have saisons and hoppy things in the fridge. This Rare Beer Club exclusive turned out so good that we make an effort to remind ourselves to share. Should you find yourself in Portland, do swing by and say hello to the Upright folks!
August IPA is bottle conditioned and certainly robust enough to last in the cellar, but the hop characteristics we found early on make us hesitant to suggest anything beyond enjoying this hybrid beer fresh. Expect more saison than IPA, should you wait. The fruitiness and apricot notes that figure heavily in the hop character here make us want to aim for medium-bodied fare attuned to those elements. Pork-loin or chicken dishes. Simple vanilla dessert to close.
Market saturation… It's a growing reality as craft beer continues its groundswell, but in places where great beer has had a foothold since before the microbrew renaissance of the 1990s, like the Pacific Northwest, it's on the verge of becoming problematic. Portland, Oregon is pretty much at the epicenter of "PacNW" brewing, with (at least as of the last time we checked) more breweries in operation than any other city in the world. There are likely more native beers available per capita in Portland than in any other place on Earth. So, what did that mean for a brewery opening up shop there in the late twenty-aughts?
Differentiation, that's what. The PacNW hop bombs that helped make Oregon a famous brewing hotspot, and have since swept the nation, are more than plentiful there. For a while, we'd been thinking that there might be a backlash lurking, where people crave session beers along the lines of traditional historical English and German favorites. Don't get us wrong—big beers are great—we love them. Extreme beers, too… But there's something to solidly made session beers that's just timeless, and that explains the recent resurgence in these beers with an ABV under 4.5% or so. The trend we're seeing is less a return to traditional English ales and German lagers that helped launch our first domestic microbrewery revolution, and something decidedly more American hop-forward. Also! With an increasing focus on smaller environmental footprints and buying/supporting local businesses, domestic farmhouse-style beers have been on the rise. Upright Brewing is built on the individualistic approach used in farmhouse styles: using locally grown pale malt and hops, Saison yeast, open fermentation…
Upright Brewing Co. parlayed that "farmhouse" approach into making their own rules, while often exploring hard-to-find old-world styles like English old ale and German pilsner and even gose. Founder Alex Ganum grew up in the midst of Michigan's burgeoning brewing scene, and moved west to Portland to attend culinary school. About midway through, he realized he wanted to be brewing, not cooking. However, the art of tasting and creating recipes during that experience greatly helped him "learn how to taste", which contributed to his ability to create beer recipes. An internship at Brewery Ommegang in Cooperstown, New York didn't hurt either. Making chili beers with Fatalii and Habanero peppers, and saison with calendula and homegrown yarrow flowers means there are pretty much no limits here—just like Charles Mingus' compositions and performances on his upright bass (hence the brewery's name). Their particular type of individualism, one often moving away from the trends of the local market, is a big part of what makes Upright Brewing Company a brewery to watch. But for right now, to hell with watching—let's get to drinking one of their beers!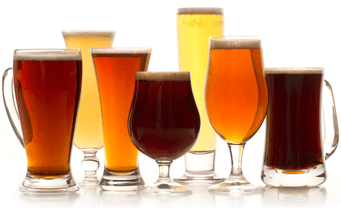 Unmatched Variety by style, brewery & country
Choose from Five different Beer Clubs offering unmatched variety by brewery,
country of origin, and beer style to suit your specific tastes.
DISCOVER OUR FIVE CLUBS