Upright Brewing Company - Five
ABV:

5.50%

Serving Temperature:

45-50° F

Suggested Glassware:

Tulip, Pint Glass, Mug, Tumbler
The brewery is keen to point out that you ought to just pour this beer into any glass you like. Fine by us—it doesn't fit snugly into a traditional style anyhow—it's pretty much pale ale meets Saison, or, Farmhouse Pale Ale, if you like. We went with a tulip glass, which was filled with a turbid bronze brew smothered by a two-fingers thick off white head that clings tightly to the glass. The hops are quite evident, but it's not a bombastic PacNW hop monster (not that there's anything wrong with that), rather, we have a softer, more perfumy quality wafting about. Though there is a form of extreme hopping at play here—Xanthohumol, a cancer-fighting compound found only in hops—has been added to the beer in doses at least ten times higher than that typically found in beer. We also got a mildly soapy note, possibly from the massive dose of Xanthohumol, but it actually works quite nicely with the growing citrus character as the beer warms. Perhaps most noteworthy is the firm undercurrent of bready maltiness that balances the aroma. Also playing a supporting role are the slightly phenolic, softly peppery influences of the Saison yeast. Look also for almost hidden notes of anise and tangerines. At full warmth, wildflower (buttercup?) and grassy notes, and a bit of "wildness" emerge. Despite the hoppiness on the nose, grains take center stage in the flavor profile. Expect notes of crackers (think saltines and Melba toast). Indeed, this is quite a "crackery" little beer. The floral attributes of the hops re-surge mid-to-late sip, just ahead of a firm bitterness washing over the palate. The hops truly dominate the finish, as does an impression of lemon zest; but after a near disappearance of the hops between sniff and swallow, where grains take center stage, well, it's quite an impressive arc. Once well warmed, there's a secondary finish—a fade out of sorts, where breaths of earthy, farmhouse mustiness rise. Ah, open fermentation and its many blessings… This is a finely crafted brew, for sure. And all this offered within a very modest 5.5% ABV. Five is at once subtle and complex. Perhaps easily misunderstood as straightforward, there is great skill at work in this very pleasant beer. In short, this is session Saison, just as it ought to be.

Oregon is full of great beer, and you pretty much have to be within the state to get this beer on tap, or, nearby in the 2 others that may have it in the bottle. Enjoy the samples that we've sent you, as this beer is not easy to come by.
Market saturation… It's a growing reality as craft beer continues its groundswell, but in places where great beer has had a foothold since before the microbrew renaissance of the 1990s, like the Pacific Northwest, it is on the verge of becoming problematic. Portland, Oregon is pretty much at the epicenter of "PacNW" brewing, with a whopping 43 breweries in operation as of December, 2011—more than any other city in the world. There are more native beers available per capita in Portland than in any other place on Earth. So, what does that mean for a brewery looking to open up shop there in the late twenty-aughts? Differentiation, that's what. The PacNW hop bombs that helped make Oregon a famous brewing hotspot, and have since swept the nation, are more than plentiful there. For a while, we've been thinking that there might be a backlash lurking, where people crave session beers along the lines of traditional historical English and German favorites. Don't get us wrong—big beers are great—we love them. Extreme beers too… But there's something to solidly made session beers that's just timeless. The trend we're seeing is less a return to traditional English ales and German lagers that helped launch our first domestic microbrewery revolution, and more a gravitation toward the stylistically freer culture found in Belgian brewing. Also, with an increasing focus on smaller environmental footprints and buying/supporting local businesses, domestic farmhouse-style beers are on the rise. That's exactly what Upright Brewing Company is all about—the individualistic approach used in farmhouse styles—as in their use of locally-grown pale malt and hops, Saison yeast and open fermentation. Founded just three short years ago, they've also parlayed that "farmhouse" approach into making their own rules, while often exploring hard-to-find old world styles like English Old Ale and German Pilsner and even Gose. Founder Alex Ganum grew up in the midst of Michigan's burgeoning brewing scene, and moved west to Portland to attend culinary school. About midway through, he realized he wanted to be brewing, not cooking. However, the art of tasting and creating recipes during that experience greatly helped him "learn how to taste", which contributed to his ability to create beer recipes. An internship at Brewery Ommegang in Cooperstown, New York didn't hurt either. Making chili beers with Fatalii chilies and habanero pepper, and Saison with calendula and homegrown yarrow flowers means there are pretty much no limits here—just like Charles Mingus' compositions and performances on his upright bass (hence the brewery's name). Just don't expect a double IPA any time soon… the market's got that bit pretty well covered at this point. Yet it's that type of individualism that is diametrically opposed to things like "market saturation," which is a big part of what makes Upright Brewing Company a brewery to watch (but for right now, to hell with watching—let's get to drinking one of their beers!).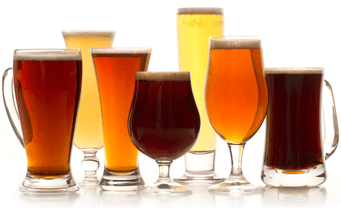 Unmatched Variety by style, brewery & country
Choose from Five different Beer Clubs offering unmatched variety by brewery,
country of origin, and beer style to suit your specific tastes.
DISCOVER OUR FIVE CLUBS