Valiant Brewing Company - Chernyy Medved
ABV:

13%

Serving Temperature:

50–59° F

Suggested Glassware:

Snifter, Tulip or Goblet

A powerful and fearless Russian Imperial Stout brewed in collaboration with our comrades at Black Market Brewing in Temecula, California. Chernyy Medved was brewed in tribute to the OC Brew Ho Ho Holiday Ale Festival, which takes place in December in Orange County, CA.
Brewed with smoked wood, pine, vanilla, cherries and coming in at 13% ABV, this intense black beauty will warm you right up this winter or will cellar nicely to be enjoyed in the years to come.–Chernyy Medved label notes
The latest batch of Chernyy Medved has been brewed just for our members. We're featuring this one as a Rare Beer Club exclusive—which are some of our favorite words in the world to say together. We've been digging everything we've been lucky enough to sample from the crew at Valiant, and as soon as we tasted Chernyy Medved, we knew we'd be needing more.
This pours a highly dark chocolate-brown, with exceptionally little light getting through near the edges. A finely carbonated, medium-brown head caps things. Thin perimeter foam lasts.
Some additional details from the brewery noted that this was actually brewed with a hint of beech-smoked barley and peat-smoked malt, in addition to the special adds of cherry puree and vanilla. Dense and generous contributions from the peat and beachwood appear pretty clearly in the aromatics, and it's a nicely tuned, Lagavulin-like (or Islay-esque) note conjuring some of our favorite varieties of single malt. Peat-smoked malt is too frequently overdone—which this beer wisely avoids in favor of inky, smoky, endearing aromatics being a key focus. Throughout this stout, the bright cherry and vanilla offer up a smooth, velvety counterpoint.
The flavor is where things open way, way past familiar smoked aromatics. Despite that 13%, we found no immediate push from the alcohol, with any sorts of fruity heat budging up just so with the cherry additions. Chocolate and cherries play the biggest role in this beer, with a vibrant red fruitiness and complementing notes of cocoa, milk chocolate, and licorice. There is also an immense amount of depth to be explored over in the caramelized parts, with toffee and rich caramels and brown sugar providing a mellow backdrop against all that darker roast.
As this warms up, more caramelization and deep red fruitiness play out in the aroma as well.
Ultimately, this is way more slim and smooth than a 13% Russian-style imperial stout might sound. The cherry and vanilla additions are perfect playing off a middle of caramel and milk chocolate, and the smoked malt provides subtle, peaty echoes that never rise above a proper volume, relatively quiet compared to other parts. We found angles approximating chocolate-covered cherries, while other corners offered raspberries, creamy coffee, even crème brûlée.
We've tasted year-old bottles of this beer that still seemed alive and nicely appointed, and the brewery suggests that one can comfortably cellar Chernyy Medved for 2–5 years. In terms of food pairings, Valiant suggested butterscotch pot de crème or vanilla tartlet for desserts (the latter with Chantilly crème filling and dark-chocolate reduction sauce). For main courses, it's ideally suited beside charred fare like skirt steak with mole sauce, juicy pork ribs, or brisket.
The origin story for Valiant Brewing Co. begins, give or take, at a Nissan dealership. Owner and head brewer Brian Schoepfer was born and raised in southern California: a gearhead into hot rods and race cars. Working on cars at the Nissan dealership just wasn't cutting it. "It got to a point where I could just listen to a car come in, and I knew what was wrong with it."
A friend suggested Cal State Long Beach, and Brian ended up getting a degree in mechanical engineering, followed by a career in the booming aerospace industry in SoCal. Brian was not, however, very keen on beer until about 2005. An older friend headed regular outings to local breweries, and this friend had finally convinced Brian to join him for beer. He took him to a Yard House, and they sampled through a flight of four ambers, sampling each in turn. "So I go through those beers. I look at them at the end and I'm just like, Holy cow—I've just been missing so much by not being involved in this." A Mr. Beer kit received a month later for his birthday was soon jettisoned in favor of all-grain brewing systems of increasing complexity.
The original plan had been to start up a business making high-performance race cars and hot rods, operating out of a massive detached garage/workshop Brian had been putting together. The 2,400-sq. ft. facility, with everything from a lathe mill to an engine dynamometer, was lost to a southern-California forest fire sparked by an arsonist in 2007. Living with family nearby for the interim, Brian quickly grew restless. "Within a week, I went and got a cooler and a turkey fryer, and I was just brewing to kind of keep my sanity." When it came time to rebuild, Brian was (wisely) asked by his wife to make a decision—to focus on one of the two roads ahead.
Brian chose to brew. Four years after that decision, Valiant opened.
Today, after a whole lot of steps in between, the Schoepfers share the efforts of running one of Orange County's great breweries. Brian does all its welding, fabrication work and brewing. His wife Kelly handles the less-fun paperwork, among myriad other things. For 2016, Valiant plans to release 29 different beers, including a major refresh to their core lineup. Those plans for 2016 kick off with the release of Chernyy Medved—an exclusive to The Rare Beer Club.®
By Ken Weaver
This month's featured selection of Chernyy Medved was especially interesting in terms of its core notes, layering additions of vanilla and cherries against the chocolate core of a Russian-style imperial stout. The fact that this combo works—relative to, say, gose with eucalyptus—shouldn't be shocking. It actually got me thinking about another release we'd had in The Rare Beer Club earlier this year: the Wekken Sour collab from Left Hand and De Proef, which is a blend of imperial stout and Flemish sour. Think about it: what top notes did that sour add?
Brightening red-fruit character. Notes approximating vanilla from the oak aging. (The fact of Chernny Medved having pine and smoked wood appearing as tertiary notes doesn't hurt the comparison). Both beers have as foundational points the cherries, the vanilla and the stout.
Of course this works. Vanilla plays well with fruits, and especially in cherry form, in a variety of ways: cherry cheesecake, cherry-vanilla ice cream—even, getting closer to stout turf, in the myriad cherry-vanilla colas in existence. Add in that robust chocolate of a heavier stout core, and we're in the narrower neighborhood of milk chocolate-covered cherries and a classic ice cream sundae. Even for core stouts with profiles deviating well beyond chocolate, aspects of caramel (similarly friendly to fruits and vanilla) and cola (per above) fill in any space just fine.
Stouts with vanilla-bean additions aren't as tough to track down (with the majority of vanilla additions going into some sort of stout or porter base). Both Cycle and Cigar City in Florida have multiple vanilla-and-cherry versions of their darker offerings. Alaskan Brewing's got an occasional baltic porter in its Pilot Series, brewed with black cherries and whole vanilla bean. Others—Ballast Point, Deschutes, Stone—offer up cherry-vanilla options in limited supply.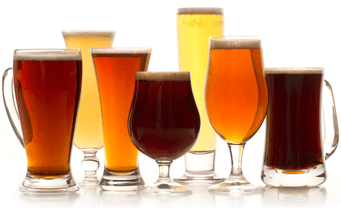 Unmatched Variety by style, brewery & country
Choose from Five different Beer Clubs offering unmatched variety by brewery,
country of origin, and beer style to suit your specific tastes.
DISCOVER OUR FIVE CLUBS