Van Den Bossche - Pierre Celis Memoirs
As a single batch edition to accompany the book. "MY LIFE", the beer was produced in consultation with Pierre Celis by the Van den Bossche brewery, in the village of St Lievens Esse, between Ninove and Oudenaarde, in the "Flemish Ardennes".
Pierre Cellis is not easily pleased, but he is on record as admiring Van den Bossche. While some Belgian brewers have become famous for their world classic beers, and others have been content to make more mainstream brews for the mass market, Van den Bossche represents another strand: a very small local brewery that has passed from one generation to the next without great changes, making beer in the way that it always did. No brewery is completely immune from change, but an establishment like Van den Bossche is unselfconsciously artisanal: what Americans would call a craft brewery.
It began as a farm brewery in 1897, near the town square and church of the patron saint Livinus. There are touches of Art Nouveau about the brewery facade, but the interior has a more agricultural feel, with malt still delivered in sacks, and spices ground in a mill that looks like a kitchen mincer. Ignace Van den Bossche demonstrated by grinding coriander into a bowl like a saucepan lid. "I use one of these, full, per brew," he told me. "What is the weight?" I asked. "I don't know," he replied. Coriander and Curaçao have been well featured in the beers for at least 30 years, according to the brewhouse logs. The brewery has a spicy, medicinal, dark ale called Buffalo, something between an Oudenaarde brown and a sweet stout. Allegedly, a lone brewer accidentally created it by allowing the mash to scorch while the rest of the staff had the day off for Buffalo Bill's circus in 1907.
The Pater Lieven rubric is used on a range of abbey beers, The Blond (6.5vol) has a fresh, creamy, aroma; a firm, crisp, palate; and a dry, faintly salty, very appetizing, palate. The Bruin, at the same strength, is very dark, and yet creamier, with a very good malt character and rich, long, flavors. Pater Lieven Tripel (8.0 vol) is cookie-like, nutty, apricot-ish and gingery, with a bronze color. A slightly maltier version is named Lamoral after a patriotic count who was beheaded during the period of Spanish rule. The Pierre Celis Memoirs Ale is perhaps hoppier and fruitier.
Fresh, hoppy-fruity aroma. Confident harmony of fruity aromas and flavors: apricot, peach, tangerine. Restrained, delicate, beautifully composed. Firm, crisp, notably long, elegant. Gently spicy, gingery, dryness in finish.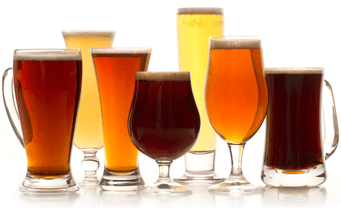 Unmatched Variety by style, brewery & country
Choose from Five different Beer Clubs offering unmatched variety by brewery,
country of origin, and beer style to suit your specific tastes.
DISCOVER OUR FIVE CLUBS