Weyerbacher Brewing Company - Tango
ABV:

10.6%

Serving Temperature:

49–57° F

Suggested Glassware:

Goblet, Snifter, or Bordeaux glass
We were especially fond of how this release from Weyerbacher came together—that smooth and seamless addition of cherries into a Belgian-style framework. The fruit flourish serves as a natural match to dark ales of this sort, which already tend to exhibit estery fruitiness, along with complementary notes of cola, caramel, and brown sugar. There's a rich cherry character here, for sure. But it could possibly go unnoticed as a full-on cherry addition, if tasted blind.
The aromatics give it away the most: fruity, vinous. Suggesting dark-cherry juice.
We really enjoyed this one out of bigger-bowled glasses: a goblet, chalice, or round fishbowl-approximating Bordeaux stemware. (An actual fishbowl would probably work, but we're way too classy and fond of the resident RBC goldfish. Also: the potency of this one encourages a bit o' moderation, as well as sharing.) But this pours richly, regardless: deep ruby colors, with light-tan foam that lingers for a bit. And that aroma is one we wanted to dig into one way or another: a goblet full of ripe cherries, caramelized sugars, burnt sugar, and peppery phenolics (the lattermost from its generous yeast character). We kept going back to the aroma on this.
Within that ideal temperature range: we could easily be convinced this came from Belgium.
Weyerbacher's earliest rendition of Tango originally appeared back in late 2011, within their Brewers' Select series. This version we're offering for our members is an amped-up version: bottled conditioned and slightly higher in alcohol. 1,200 pounds of cherries were added into the batch, aligning perfectly with a complex malt bill incorporating pilsner malt, honey malt, Special B, aromatic malt, and even a touch of chocolate malt. (Because cherries.) A generous dose of Apollo hops work with effervescent carbonation to keep this beer entirely on point, offering up exactly what we'd hope for: exuberant red fruits, soft spice, and a plush interior.
These are bottled conditioned and should be able withstand time for at least a little while, as the caramelized middle amplifies and some of those more volatile fruit qualities diminish. In our sense of things: these will prove most expressive early on. For pairing, look to using that rich cherry character and secondary caramel for all they're worth. Weyerbacher's Tango puts enough heft forward to work beautifully with braised or slow-roasted pork belly. For dessert courses, look to chocolate-caramel pastries or a counterpoint of rich, unadorned cheesecake.
The Weyerbacher Brewing Company is one of many outstanding breweries from a state that has long been home to some of the nation's finest brewers—both pre- and post-Prohibition. Most of the great Pennsylvania brewers tend to keep their products fairly close to home and are perfectly happy serving just their local or regional market. As a result, you may not have had the benefit of enjoying many beers from PA, but trust us, brewers throughout the state produce some of the country's finest.
For a few years after their founding in 1995, Weyerbacher flew a bit under the regional radar, opting at first to brew only traditional, true-to-style beers. Founder and homebrewer Dan Weirback (Weyerbacher—pronounced "why-er-bock-er"—is the original spelling of the Weirback family name used by the first immigrants from Germany about 200 years ago) and his wife Sue intentionally started out sticking to mainstream microbrews. Who could blame them; things were different in the mid-90s. But in 1997 they scaled up one of Dan's favorite homebrew recipes, Raspberry Imperial Stout, and the locals really responded to their first taste of locally-brewed extreme beer. The following year they brewed Blithering Idiot Barleywine, a massive 11%+ beer, and began brewing Belgian beers as well, like their Merry Monks' Ale (originally called "Belgian Style Tripel"). The experience of brewing these bigger beers, and the alacritous reception by better beer drinkers led Dan & Co. to set a new path, which he sums up as follows:
"Let's make full-flavored high-quality brews for a discerning customer."
They haven't looked back.
That move ultimately allowed them to relocate from a 4,500 square foot livery stable in downtown Easton, PA, where they also ran a small brewpub, to a 20,000 square foot, brewery-only site at the end of 2001. While there, their creative endeavors have been unending. Weyerbacher beers were among early big beers to be barrel aged, and they've taken many of their existing beers, put them on wood, and re-titled the wood versions (rightfully so, as there's a near total transformation). Their Merry Monks' Ale on wood becomes Prophecy. Their massive 11.8% ABV QUAD turns into Blasphemy. Blithering Idiot Barleywine aged in oak bourbon casks transforms into Insanity, and their Old Heathen Imperial Stout put in oak barrels that were used for making Kentucky bourbon grows to be Heresy. Wood aging has become increasingly common these days, but the approach they used showcases the early intrigue and systematic rigor employed in their happy experimentation process back the early 2000s (not to mention the risk—barrels are expensive, bulky, take up tons of space, need time, and often yield unpredictable results). In Weyerbacher's case, the results are worth it—their barrel-aged beers continue to be some of their most highly demanded.
But barrel-aged beers aren't the only tricks Weyerbacher has to offer. Even before they began growing their own hops at the Weyerbacher Hop Farm, Dan and fellow brewer Chris Wilson embraced the power of the little green flowers, producing Hops Infusion, a session-style IPA brewed with seven hop varieties. Then came their interpretation of an Imperial (or Double) IPA, Double Simcoe IPA. This is a beer that we think really shows Weyerbacher's brewing prowess—in it you have a massive IPA that is absolutely huge on flavor, but eminently smooth and balanced, with zero harshness. The special 750ml, unfiltered and bottle-conditioned version we brought to our members almost four years ago was the last time Weyerbacher appeared in The Rare Beer Club, so we're pleased to revisit this brewery, albeit with quite a different offering this time around.
Tango is a Belgian-style strong dark ale brewed with a big infusion of real cherries. It's a special release with limited distribution, and we're taking a sizeable portion for our members of the total amount produced. We hope you dig it as much as we did!
By Ken Weaver
In thinking about one of this month's selections—Weyerbacher Tango, which melds those cherry additions to a Belgian-style dark ale—I realized how vital that particular stone fruit is in this house. We don't eat all that many cherries, as we usually grow other fruits at our spot in Sonoma County (seasonal avalanches of Gravenstein apples in late summer, for example).
But we do drink a bunch of cherries. Some suggestions worth seeking out:
New Glarus' Wisconsin Belgian Red uses over a pound of local Montmorency cherries per bottle, harvested from the state's peninsular Door County. If making friends with Wisconsin residents or expats to satisfy New Glarus cravings isn't already a thing you do, this should do the trick. The Careys are behind some of the tastiest fruit and German-style beers out there.
Russian River Supplication ages for a dozen months on sour cherries, and—unless bunches of stars align and Compunction's on tap—it's our most likely sour pick on the Russian River board. (Making friends with Sonoma County residents should also be on your to-do list.) My wife and I have also been digging Cuvee de Tomme for around a decade now, which hangs out with sour cherries in Bourbon barrels. Current bottles even picture a cherry hourglass.
And that's just scratching the surface, stateside. In Belgium and beyond, 'kriek' signifies sour cherry goodness in its myriad forms. Cantillon Lou Pepe Kriek is fruited beer at its finest.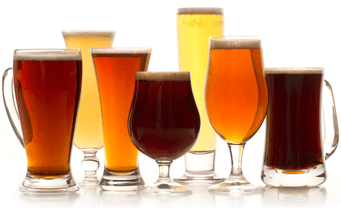 Unmatched Variety by style, brewery & country
Choose from Five different Beer Clubs offering unmatched variety by brewery,
country of origin, and beer style to suit your specific tastes.
DISCOVER OUR FIVE CLUBS