Yazoo Brewing Company - Citrus Vacation (RBC Exclusive)
ABV:

6.5%

Bottle Size:

750-ml

Serving Temperature:

43–50° F

Suggested Glassware:

Tulip, Teku, or Chardonnay Glass
Yazoo's Citrus Vacation was brewed exclusively for our Rare Beer Club members, such that this will only be available through the club and (should any be left over) through the brewery tasting room in Tennessee. This is a blend of oak-aged saison and spontaneously fermented blonde ale, which gets refermented with the addition of passion fruit, guava, and Key limes. It's packed with tropical notes and bright citrus, and comes in at 6.5% ABV, with about 200 total cases produced.
Citrus Vacation pours a well-hazed, golden-orange color, thoroughly hazed in fact, with a sturdy off-white foam capping things. This blended beer gives off a nice orangey, apricot-like glow in the glass. The passion fruit's impact is exceptional in the aroma. The citrusy, lemony mixed-fermentation character offers a strong underpinning for each of the special additions. There's a zesty and satisfying lime presence, the unmistakable tropical brightness of guava as well. We found ourselves engulfed by mouthwatering citrus even before the first sip, as each of those special additions showcased especially well with Yazoo's complex base blend. There are subtle oak impacts, and this proves refreshing and very well structured from the get-go.
Moderate, fine-bubbled carbonation provides just enough lift here, as there's already plenty of vibrancy from the acidity and impactful citruses. This stays bright and lively throughout, for sure. The core blend's complexity serves as a strong pillar for showing off that passion fruit and guava, while the lime blends in seamlessly as a secondary note. The oak-aged saison and spontaneously fermented blonde ale offer some solid underlying complexity, funk, and even some vanilla-like, almond-y, lightly tannic structure from the time spent in wood. Hard to remember another beer that showcases funky citrus like passion fruit and guava this well; we love the pungency and immediacy of these fruits, but it takes a particularly good base to emphasize these flavor profiles properly. Citrus Vacation has it in spades. This beer ends up being so nicely bright, so juicy and tropical—with just endless layers of a funky fermentation character and citrusy special additions to unpack. So happy to showcase this beer. Incredibly good show of guava and passion fruit; hard-pressed to point to anything else coming close.
This should continue to develop in one's cellar for another year or beyond, but we think that impact of the passion fruit, guava, and lime is hitting right where it should right now. As far as food pairings go, we'd work with those top notes of tropical citruses and lemony acidity: we're thinking creamy goat cheeses and/or washed-rind cheeses, fruit salads of pretty much all sorts, pork bahn mi, even some spicy mint lamb. The acidity plus carbonation here serves to help cleanse the palate after fattier cheeses and meats.
Yazoo Brewing Co.'s founder and brewer, Linus Hall, got his brewing start in a familiar fashion, purchasing a homebrewing kit from an ad in the back pages of Rolling Stone back in 1993. Linus was, as he phrased it, "a cash-poor college student living in an old farmhouse in Virginia, and brewing my own beer seemed a little less illegal than the pot-growing operation my other housemates were involved in." We're typing this from California; we get where he's coming from. His homebrewing habit continued after moving with his wife Lila back to Mississippi following college, and when the couple relocated to Nashville in 1996.
Fast-forward a bit, and Yazoo Brewing Co. opened up in Nashville in October of 2003, with a keg-only lineup of staple beers like Yazoo Pale Ale, Spring Wheat, Dos Perros (a Mexican-style beer, featuring Perle and Saaz hops) and Onward Stout. They quickly established strong local support for their draft beer, and their Hefeweizen entered regular rotation after picking up a gold medal at the Great American Beer Festival in 2004, just a year after Yazoo opened.
Bottling began in 2005, though much of their production (and particularly, some of the low-volume special releases in their Embrace The Funk lineup) remain keg-only. 2009 saw their release of Yazoo Sue, "Tennessee's first ever legal high-gravity ale," a delicious 9.2% ABV beer emphasizing cherrywood-smoked malt. (The above should also give a sense of some of the additional hurdles along the way, as it required them to get a distillery license.) In only six years Yazoo outgrew its initial home base, and 2010 brought the purchase of a new brewing facility (including a 40-barrel brewhouse) in The Gulch, a historic neighborhood in Nashville between Music Row and downtown.
Of particular note: Yazoo started up their Embrace The Funk series in mid-2012, bringing in local writer and wild-beer specialist, Brandon Jones, who runs a popular website by the same name (check it out at www.embracethefunk.com). The program—from which this month's Rare Beer Club exclusive offering was born!—allows Brandon to focus on (no surprise) wild yeasts, funky bacteria, and a whole range of barrel treatments. Some highlights there include, just to give a little sense of what's ahead: their Citraluxe, a French-style Bière de Garde using Citra and Galaxy hops and a range of souring elements; and Spilled Vines, a blend with three different wine-barrel-aged beers at its core, employing Port and Cynthiana red-wine barrels, a bit of blackberries and Merlot grapes, Belgian Candi sugar, and lord knows what else. These were both draft-only, with Spilled Vines being offered as a Yazoo taproom exclusive—which hopefully gives a sense of how lucky we were to get one of these beers bottled for the Club.
This month, we're thrilled to offer up Yazoo's Citrus Vacation as a Rare Beer Club exclusive offering. Brandon and the Yazoo team have put together a really magnificent beer for us: a blend of oak-aged saison and spontaneously fermented blonde ale, refermented with passion fruit, guava, and Key lime. This is the first time this beer has ever been released—and it's only available through The Rare Beer Club. We love how this oak-aged blend with special additions turned out—bright, tropical, and vibrant overall—and we think you're going to dig it as well.
If you're in the Nashville area, be sure to swing by Yazoo's latest taproom location—which they just moved into a few years ago. Having outgrown their downtown Nashville spot, they recently built their own facility in Madison, Tennessee, about 15 minutes away, on a 7-acre plot nestled along on the Cumberland River. The new place has got way more parking, great views from the patio, and a new canning line in the works. Learn more at yazoobrew.com.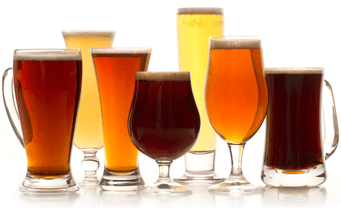 Unmatched Variety by style, brewery & country
Choose from Five different Beer Clubs offering unmatched variety by brewery,
country of origin, and beer style to suit your specific tastes.
DISCOVER OUR FIVE CLUBS