Yazoo Brewing Company - Embrace the Funk Series: Saison de Bois
ABV:

5.8%

Bottle Size:

750-ml

Serving Temperature:

43–50° F

Suggested Glassware:

Tulip, Teku, or Chardonnay Glass
Yazoo's Saison de Bois is a beer produced every 14 months or so, in very limited quantities, and only sold in Tennesse to the brewery's highest quality retail partners, though some is shipped directly to consumers from Yazoo's tap room. It is usually only packaged in 375ml bottles and 1/6 bbl kegs, but Yazoo packaged our allotment in 750ml bottles, to better accommodate our Rare Beer Club members.
The Yazoo Saison de Bois pours a well-hazed, golden-orange-amber color, with a well retained, if slightly minimal, head. The look is ruddy with an orange glow coming from the center. The aromas are well layered citrus, stone fruit, pineapple, wild flowers, and earthy tones. There's a hint of spicy smokiness from the Wallonian yeast used in the fermentation process which plays well with the French oak puncheons the beer was aged in for six months. Those puncheons also lend a hint of vanilla that sweetens the aroma adding another intricate layer. After a thorough swirl in the glass we lean in for another sniff that helps us identify the aromas we detected, with the citrus notes resembling Valencia orange peel, orange blossom, and crushed orange leaf. So too is the stone fruit defined now as under ripe apricot and yellow plum. The wild flowers are like an open field in autumn, somewhat dusty and wind driven. There's also a good amount of farmhouse-style funk and deep lactic notes, with a rustic pastoral feel to it. Dried grass, hay, and straw come to mind along with parmigiano reggiano cheese rind. The Pilsner malt, oats, wheat, and rye that drive the grain bill give a light toastiness that rounds out the aromas. This beer would make us believe it was a Belgian Saison if we didn't know any better.
The first sip of Yazoo's Saison de Bois is slightly tart and juicy, bringing forward some lactic notes from the aroma as softly sour flavors. The citrus notes abound, as the Valencia orange notes are sharply focused on the palate, with an expressed orange peel bitterness. Apricot and tart yellow plum shine through next and are tangy and mouthwatering, as are pineapple sweettart notes. More floral and farmhouse flavors push through as the beer warms slightly in the glass and give way to the French oak vanilla woodiness and finely textured maltiness. A bit of drying acidity, present from start to finish, complements each flavor. This is a medium bodied beer with an aggressive and finley bubbled mousse that leads to a lingering tart, floral, and fruity finish. There's an old-school savoriness to this beer only true artisans can portray. It left our palates begging for more.
The further development of this beer in the bottle can be had for years to come. Fire roasted poultry and vegetables would pair well with the Saison de Bois, as would game birds and lamb. But if you'd like to bring it closer to the beer's stylistic roots, try it with Belgian Frites and Andalouse Sauce. The acidity and fine carbonation will balance the richness of the potatoes and sauce adding to the overall experience.
Yazoo Brewing Co.'s founder and brewer, Linus Hall, got his brewing start in a familiar fashion, purchasing a homebrewing kit from an ad in the back pages of Rolling Stone back in 1993. Linus was, as he phrased it, "a cash-poor college student living in an old farmhouse in Virginia, and brewing my own beer seemed a little less illegal than the pot-growing operation my other housemates were involved in." His homebrewing habit continued after moving with his wife Lila back to Mississippi following college, and when the couple relocated to Nashville in 1996.
Fast-forward a bit, and Yazoo Brewing Co. opened up in Nashville in October of 2003, with a keg-only lineup of staple beers like Yazoo Pale Ale, Spring Wheat, Dos Perros (a Mexican-style beer, featuring Perle and Saaz hops) and Onward Stout. They quickly established strong local support for their draft beer, and their Hefeweizen entered regular rotation after picking up a gold medal at the Great American Beer Festival in 2004, just a year after Yazoo opened.
Bottling began in 2005, though much of their production (and particularly, some of the low-volume special releases in their Embrace The Funk lineup) remain keg-only. 2009 saw their release of Yazoo Sue, "Tennessee's first ever legal high-gravity ale," a delicious 9.2% ABV beer emphasizing cherrywood-smoked malt. (The above should also give a sense of some of the additional hurdles along the way, as it required them to get a distillery license.) In only six years Yazoo outgrew its initial home base, and 2010 brought the purchase of a new brewing facility (including a 40-barrel brewhouse) in The Gulch, a historic neighborhood in Nashville between Music Row and downtown.
Of particular note: Yazoo started up their Embrace The Funk series in mid-2012, bringing in local writer and wild-beer specialist, Brandon Jones, who runs a popular website by the same name (check it out at www.embracethefunk.com). The program allows Brandon to focus on (no surprise) wild yeasts, funky bacteria, and a whole range of barrel treatments.
In 2019, Yazoo moved operations yet again, this time to an even larger space in Madison about 15 minutes outside downtown Nashville. If you're in the Nashville area, be sure to swing by their taproom at this new location, which sits on a 7-acre plot nestled along on the Cumberland River. There's lots of parking, great views from the patio, and a robust canning line packaging all of their great beers, making it easy to take some home with you. Learn more at yazoobrew.com.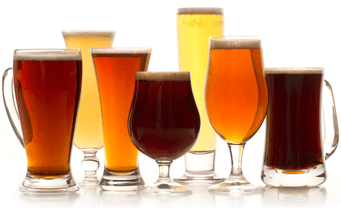 Unmatched Variety by style, brewery & country
Choose from Five different Beer Clubs offering unmatched variety by brewery,
country of origin, and beer style to suit your specific tastes.
DISCOVER OUR FIVE CLUBS