Yazoo Brewing Company - Monteur de Houblon
ABV:

6.7%

Bottle Size:

750-ml

Serving Temperature:

45–52° F

Suggested Glassware:

Tulip, Teku or Chardonnay Glass
One of our featured beers this month is an exclusive release from Yazoo Brewing Co., made special for our Rare Beer Club members. Monteur de Houblon is a barrel-aged, dry-hopped saison that features a higher-hopped version of the brewery's saison as its base, aged for 10-ish months in neutral white oak barrels that had previously held the brewery's grisette. This beer uses Tennessee oats and wheat (from north of Nashville), and has a bit of the brewery's foudre-aged sour blonde blended in (around 20% of the total). It's dry-hopped with Citra, Mosaic and Amarillo, and even employs some tangerine peel. The final result is a complex, deftly composed barrel-aged saison that's dry, zippy and bright—a perfect beer for summer.
This is well-hazed saison, with a strong depth of color and very finely bubbled foam. Creamy off-white bubbles, strongly retained with exceptional lacing when you give the glass a tilt. A huge impact of tart saison in the aromatics, providing intense grapefruit and candied lemon, lots of crisp lime and other tree fruit, along with dense herbaceous character and underlying touches of oak. (The barrel character is soft, nicely integrated, and provides some welcome secondary structure throughout this beer.) There's mouthwatering lambic-like funk present: subtle and salty and highly refreshing. Overall, first impressions of this saison are that of an especially serious tart beer, with overlays of vibrant, herbaceous, subtly tropical hops.
We absolutely love barrel-aged saisons here at The Rare Beer Club, and Yazoo's Monteur de Houblon is one of the tastiest we've been lucky enough to sample. Yazoo's sours have long been a favorite of our tasting panels, and longstanding RBC members may recall their stellar Vérifiez Vos Fruits! we featured a few years back. This saison is another perfect example of what Brandon Jones and company at Yazoo manage to bring to the table when it comes to sour beers: super complex, brilliantly citrusy and funky, with firm salinity and a well-layered acidic structure. A modest carbonation and welcoming oak-barrel character provide a great framework for digging in, with subtle oak and almond and a touch of light tannins, while a core saison framework of white pepper and sourdough add more layers to what's often kind of lambic-like in overall expression. This is brilliantly complex, refreshing and lean, with tons of tree fruit and peppery saison notes and subtle barrel-aging taking things to the next level.
There's just a ton of things to dig into with Monteur de Houblon. Allowing this to warm up yields further layers of fruit: tart tangerine, bitter grapefruit pith, and some subtle grassiness and herbal character from that dry-hopping. The Citra and Mosaic fit in seamlessly with the citrus-focused acidity, providing additional notes of grapefruit and tart passion fruit and mango elements that take that tart citrus into the stratosphere. We're super thrilled to be able to offer this saison as an exclusive release to our Rare Beer Club members, and we hope you love this beer as much as we do. Definitely one worth sharing with your favorite people.
Brandon from Yazoo subscribes to the 'drink one, save one' philosophy, and given the dry-hopping here, we would encourage folks to enjoy a bottle of this one as fresh as possible to get the most out of that aspect. That said… a year or so in the cellar will take this beer to a whole other space, and it's certainly sturdy enough for some cellaring time. We suggest you hit up your sour beer go-tos as far as pairing options go. We're thinking a variety of creamy cheeses as smooth counterpoints, or fresh seafood dosed with lemon and butter.
Yazoo Brewing Co.'s founder and brewmaster, Linus Hall, got his brewing start in a familiar fashion, purchasing a homebrewing kit from an ad in the back pages of Rolling Stone back in 1993. Linus was, as he phrased it, "a cash-poor college student living in an old farmhouse in Virginia, and brewing my own beer seemed a little less illegal than the pot-growing operation my other housemates were involved in." We're typing this from California; we get where he's coming from. His homebrewing habit continued after moving with his wife Lila back to Mississippi following college, and when the couple relocated to Nashville in 1996.
Fast-forward a bit, and Yazoo Brewing Co. opened up in Nashville in October of 2003, with a keg-only lineup of staple beers like Yazoo Pale Ale, Spring Wheat, Dos Perros (a Mexican-style beer, featuring Perle and Saaz hops) and Onward Stout. They quickly established strong local support for their draft beer, and their Hefeweizen entered regular rotation after picking up a gold medal at the Great American Beer Festival in 2004, just a year after Yazoo opened.
Bottling began in 2005, though much of their production (and particularly, some of the low-volume special releases in their Embrace The Funk lineup) remain keg-only. 2009 saw their release of Yazoo Sue, "Tennessee's first ever legal high-gravity ale," a delicious 9.2% ABV beer emphasizing cherrywood-smoked malt. (The above should also give a sense of some of the additional hurdles along the way, as it required them to get a distillery license.) In only six years Yazoo outgrew its initial home base, and 2010 brought the purchase of a new brewing facility (including a 40-barrel brewhouse) in The Gulch, a historic neighborhood in Nashville between Music Row and downtown.
Of particular note: Yazoo started up their Embrace The Funk series in mid-2012, bringing in local writer and wild-beer specialist, Brandon Jones, who runs a popular website by the same name (check it out at www.embracethefunk.com). The program—from which this month's Rare Beer Club exclusive offering was born!—allows Brandon to focus on (no surprise) wild yeasts, funky bacteria, and a whole range of barrel treatments. Some highlights there include, just to give a little sense of what's ahead: their Citraluxe, a French-style Biere de Garde using Citra and Galaxy hops and a range of souring elements; and Spilled Vines, a blend with three different wine-barrel-aged beers at its core, employing Port and Cynthiana red-wine barrels, a bit of blackberries and Merlot grapes, Belgian Candi sugar, and lord knows what else. These were both draft-only, with Spilled Vines being offered as a Yazoo taproom exclusive—which hopefully gives a sense of how lucky we were to get one of these beers bottled for the Club!
This month, we're thrilled to offer up Yazoo's Monteur de Houblon as a Rare Beer Club exclusive offering. Brandon's put together a really magnificent beer for us: a special barrel-aged, dry-hopped version of their saison, featuring Citra, Mosaic and Amarillo hops. This is the first time this version has ever been released—and it's only available through The Rare Beer Club. We love how this BA saison turned out, and we expect you're going to dig it.
If you're in the Nashville area, be sure to swing by Yazoo's brand-new location—which they just opened up about a month or two ago. Having outgrown their downtown Nashville spot, they recently built their own facility in Madison, Tennessee, about 15 minutes away, on a 7-acre plot nestled along on the Cumberland River. The new site's got way more parking, great views from the patio, and a new canning line in the works. Learn more at yazoobrew.com.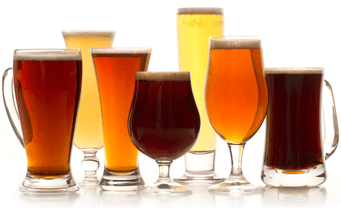 Unmatched Variety by style, brewery & country
Choose from Five different Beer Clubs offering unmatched variety by brewery,
country of origin, and beer style to suit your specific tastes.
DISCOVER OUR FIVE CLUBS