Yazoo Brewing Company - Vérifiez Vos Fruits!
ABV:

10%

Serving Temperature:

48–55° F

Suggested Glassware:

Tulip, Snifter or Pinot Glass
From Yazoo Brewing's Embrace The Funk program, we're excited to feature Vérifiez Vos Fruits! this month as a Rare Beer Club exclusive. The name translates from French as Check Your Fruit, and this complex wild ale from Yazoo definitely includes some fruit you should check out. The hefty base beer here is somewhere between a Belgian-style tripel and golden strong ale, and its incredibly intricate yeast profile originates from twelve (!) different strains of Brettanomyces, plus souring bacteria and over a year of aging in French oak merlot casks. True to its name, this beer was then refermented with a combination of cranberries, sweet dark cherries and tart cherries—ultimately making this one of the most intriguing beers we have sampled in a long while. And remember: Once these bottles are gone, they're gone!
This is our eighth year partnering up with Pints for Prostates to support their cause, and in combination with the brewery we'll be donating $1.00 to that organization for every bottle of this beer sold. Also: Every shipment includes a pair of Pints for Prostates coasters to remind our male club members to get tested and stay safe. Learn more at www.pintsforprostates.org.
On to the beer! For all of the things going on in this one, Brandon and Linus and the folks at Yazoo have done a beautiful job presenting a carefully layered wild ale. This pours a darker cherry and cranberry color, somewhere between a purplish burgundy and a deep red. This is the most cranberries they're used in a beer to date, and you're getting a lot of that cranberry color coming through here. It's approaching, but not quite as dark as, that merlot from the oak barrels this beer was aged in. That underlying base, carrying those tripel/golden strong ale characteristics, was fermented with Chimay yeast and brings in welcome peppery notes throughout this experience. From the aromatics alone, we're getting a ton of the cranberry and cherry fruit character, serious and seamless, while the complex contributions of those myriad Brettanomyces strains come through with notes of leather, tobacco and cinnamon.
There's a moderate carbonation here, avoiding a spritzy, sharp profile that makes things a bit tough to dig into, and instead this feels plush and incredibly well appointed. The combo of a vibrant core fruit character—ripe cherries, cranberries, even hints of blackberry—fit together perfectly with that spicy, cinnamon-tinged Brett character, and the accompanying notes from the peppery Chimay yeast give a welcome edging to this beer that keeps everything in focus. While there's definitely pleasant acidity here, this isn't aggressively sour, and instead the yeast contributions serve to accentuate and amplify those core fruit impacts. The French oak casks provide some almond and just a hint of vanilla, further contributing to a roundness and ideal counterpoint to all of the fruit-forward elements. We get figs, dark cherries, cinnamon, spice: with everything nicely dried out by the Brett(s). A brilliant beer. Allot time to enjoy this one.
The complex Brett profile in this means that it will continue to develop into, as Brandon put it, perhaps five or six different beers over the course of a couple years in the cellar. It's great fresh, and those fruit profiles will be at their peak, but we'd encourage members to set aside some for aging. For pairings, look to turkey or pork to work with the red fruits and pepper.
Yazoo Brewing Co.'s founder and brewmaster, Linus Hall, got his brewing start in a familiar fashion, purchasing a homebrewing kit from an ad in the back pages of Rolling Stone back in 1993. Linus was, as he phrased it, "a cash-poor college student living in an old farmhouse in Virginia, and brewing my own beer seemed a little less illegal than the pot-growing operation my other housemates were involved in." As we're typing this from California—we totally get where he's coming from. His homebrewing habit continued after moving with his wife Lila back to Mississippi following college, and when the couple relocated to Nashville in 1996.
Fast-forward a bit, and Yazoo Brewing Co. opened up in Nashville in October of 2003, with a keg-only lineup of staple beers like Yazoo Pale Ale, Spring Wheat, Dos Perros (a Mexican-style beer, featuring Perle and Saaz hops) and Onward Stout. They quickly established strong local support for their draft beer, and their Hefeweizen entered regular rotation after picking up a gold medal at the Great American Beer Festival in 2004, just a year after Yazoo opened. Bottling began in 2005, though much of their production (and particularly, some of the low-volume special releases in their Embrace The Funk lineup) remain keg-only. 2009 saw their release of Yazoo Sue, "Tennessee's first ever legal high-gravity ale," a delicious 9.2% ABV beer emphasizing cherrywood-smoked malt. (The above should also give a sense of some of the additional hurdles along the way, as it required them to get a distillery license.) In only six years, Yazoo outgrew its initial home base, and 2010 brought the purchase of a new brewing facility (including a 40-barrel brewhouse) in The Gulch, a historic neighborhood in Nashville between Music Row and downtown. Today, distribution's mostly Tennessee and Mississippi.
Of particular note: Yazoo started up their Embrace The Funk series in mid-2012, bringing in local writer and wild-beer specialist, Brandon Jones, who runs a popular website by the same name (check it out at www.embracethefunk.com). The program—from which this month's Rare Beer Club exclusive offering was born!—allows Brandon to focus on (no surprise) wild yeasts, funky bacteria, and a whole range of barrel treatments. Some highlights there include, just to give a little sense of what's ahead: their Citraluxe, a French-style Biere de Garde using Citra and Galaxy hops and a range of souring elements; and Spilled Vines, a blend with three different wine-barrel-aged beers at its core, employing Port and Cynthiana red-wine barrels, a bit of blackberries and Merlot grapes, Belgian Candi sugar, and lord knows what else. These were both draft-only, with Spilled Vines being offered as a Yazoo taproom excluse—which hopefully gives a sense of how lucky we were to get one of these beers bottled for the Club!
This month, in partnership with our friends at Pints for Prostates, we're thrilled to offer up Yazoo's Vérifiez Vos Fruits! as a Rare Beer Club exclusive offering. Brandon's been putting together a really magnificent beer for this occasion, and a donation will be made to Pints for Prostates for every bottle of this beer sold. Pints for Prostates uses the universal language of beer to spread the message of how important regular prostate health screenings are for men, and we're glad to be able to help them spread the word. The fact that there is a magnificent beer involved in helping get that message out—well, that's pretty much what we do. This is a unique, one-time offering through The Rare Beer Club. And we expect you're going to dig it!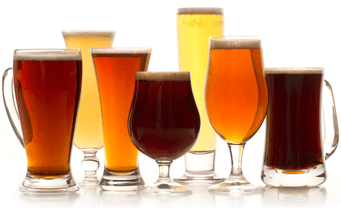 Unmatched Variety by style, brewery & country
Choose from Five different Beer Clubs offering unmatched variety by brewery,
country of origin, and beer style to suit your specific tastes.
DISCOVER OUR FIVE CLUBS