Zipline Brewing Company - Tropical Cloudlifter
ABV:

8%

Bottle Size:

750-ml

Serving Temperature:

43–50° F

Suggested Glassware:

Nonic, Tulip, or IPA Glass
As one of our two featured beers this month, we arranged to get 750mL bottles of Zipline's upcoming Tropical Cloudlifter hazy IPA. This one-time beer is a slightly higher ABV version of their year-round Cloudlifter hazy IPA dosed with loads of passionfruit and pineapple. It's made with Sultana, Mosaic, and Amarillo hops, as well as pilsner malt, wheat, and oats. The special additions serve to further enhance the juicy, pineapple and orange-y character of the base beer, and the final result, Tropical Cloudlifter, is one of our favorite hazy IPAs to date.
Beyond our allocations for the Rare Beer Club, Tropical Cloudlifter should see very limited distribution across Zipline's six-state distribution footprint, with bottles potentially making it out to Nebraska, South Dakota, Kansas, parts of Missouri, Iowa, and Nashville, Tennessee.
Tropical Cloudlifter pours a vibrant orange, hazy color capped by well-formed white foam. Like the Logsdon Two Rivers Blanc, this basically glowed in our glasses, with modest haze overall and solid retention and lacing. Lots of tropical, juicy elements lead in the aromatics, highlighting fresh pineapple, oranges, and the light tang of passionfruit. Nice grassiness at the edges, supporting that core juicy-sweet fruit component, and there's still plenty of hop impact and bitterness coming through, with the special additions playing supportive roles.
This is a nicely bitter hazy IPA emphasizing vibrant core orange and pineapple notes. Ripe red fruits and berries alongside welcome bitterness that's piney, fruity, and hugely satisfying. The 8% ABV stays well tucked away behind everything, lightly vinous and fruity, and overall Tropical Cloudlifter stays exceptionally smooth. Its hop presence is impactful throughout, as lemony and bright orange notes play out alongside the secondary impact of the passion fruit; tropical notes extend into fruit expressions like papaya and guava. Cloudlifter is super-tasty, well-hazed IPA that we love in its standard form, but the special additions take this experience to a whole other level, layering ripe fresh fruits and generous hop presence in a hazy IPA that's just a pleasure to dig into. Lasting lime zest and toasty bitterness lead a hop-forward finish.
Given the hop emphasis here, we'd definitely encourage folks to enjoy this one within those first few months. That juicy hop character will lose impact over time. Given this beer's focus on tropical fruits and fresh citrus, we'd work our food pairings around those notes: barbecue pork or grilled pork tenderloin, pineapple-topped pizzas (if you're into that sort of thing), or grilled chicken with a tropical salsa.
Zipline Brewing Co. in Lincoln, Nebraska first started production back in 2012, focused on making high-quality beers and building up a sustainable community around those beers that the brewery would be able to support. While the brewery started with just one of their three brewery founders (Marcus Powers) as the company's lone employee, Zipline has since grown to over 40 employees and a healthy six-state distribution in the midwest. The tight focus on their regional market (plus the stellar beers) allows them to properly service those territories while keeping close ties to the places serving their beer. It also means Zipline will be new to many of our Rare Beer Club members, and we think their limited-release Tropical Cloudlifter, brewed with passion fruit and pineapple, couldn't be a better first impression of what the Zipline folks are up to.
The story about how Zipline got its name is typically given in shorter form these days, more as an encapsulation of the spirit of adventure that sent them down this path. But we wanted the long version. Turns out Tom, another of the brewery's founders, had been doing zipline tours down in Central America while traveling with his family, and, once back home, his son had requested a zipline for the backyard. Tom's very much a doer—he's crafted some of the tables and bartops for the brewery's taproom—and so, in a short time window, there was a makeshift backyard zipline in place. Before the zipline could be properly tested, however, his son zoomed down it and broke his arm and his collarbone—which is probably why they tell the shorter version. (Both versions definitely capture the nature of opening a small business.)
Also, per Marcus: "There's no ziplines in Nebraska, and that's a really long story to tell."
So... that's how Zipline got its name. Since opening in 2012, the brewery's quickly grown to the full capacity of its production system, and they decided to respond to that constraint by doubling down on focusing on their nearby markets and adding retail locations. Zipline's first taproom opened up in 2013 adjacent to their brewery in Lincoln, and they opened the Zipline Beer Hall in November 2016, the latter also in Lincoln but focusing on more of a beer-garden vibe. The brewery's third taproom opened in summer 2017, in northern downtown Omaha with more of an urban industrial vibe, and Zipline added their Culture Lab facility (focusing on mixed-fermentation beers and wild projects) there in February 2019. For good measure: their fourth taproom, Zipline Beer Lounge, opened in Omaha later that summer.
This is our second feature of Zipline, and we wanted to get the heart of what these folks are up to. A huge focus for the brewery is their evolving IPA lineup, and some of our Rare Beer Club members will fondly recall their exceptional DAAANG! IPA, which we featured a few years back. This month we've managed to snag their limited Tropical Cloudlifter (packaged in 750s specially for the club), which is a slightly higher-ABV riff on their popular Cloudlifter hazy IPA, with passion fruit and pineapple added to complement that base beer's delicious focus on pineapple and orange from its hops. We love Cloudlifter—but this tropical version is even better. For folks new to Zipline Brewing Co., we think it's the perfect introduction.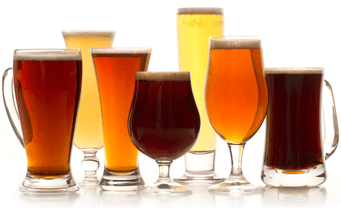 Unmatched Variety by style, brewery & country
Choose from Five different Beer Clubs offering unmatched variety by brewery,
country of origin, and beer style to suit your specific tastes.
DISCOVER OUR FIVE CLUBS