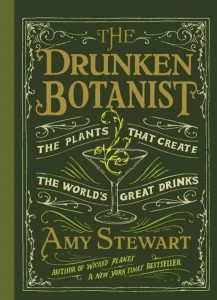 I've amassed a pretty decent library of beer- and alcohol-related books over the years as part of my work, but it's rare to encounter one that fundamentally shifts how I think about beer. I finally got around to reading Amy Stewart's The Drunken Botanist (had gotten it as a gift off my wish list a few years back), subtitled "The Plants that Create The World's Great Drinks." It approaches alcoholic drinks through the lens of botany, starting with the main sources of fermentable sugars—from agave to wheat—before heading into briefer sections that discuss the numerous herbs, spices, flowers, fruits, trees, nuts, seeds, vegetables, etc. that are used to infuse, mix, and garnish our drinks. Just about everything we imbibe starts out as a plant.
While not beer specific, The Drunken Botanist includes sections on barley, hops, and yeast, as well as so many of the special additions that contribute unique flavors and aromatics to beer. The book's broken into easily manageable chunks—five pages focused on oak, for example; a few pages on lemon verbena; a single page for lesser-used things like tamarind—sprinkled with both botanical science and key historical tidbits, and it was ideal for picking up during lunch or whenever I had a spare half-hour. I learned about how fungi-infected rye might've influenced the Salem Witch Trials. How modern citrus trees likely trace their origins back to early versions of the pomelo, citron, and/or mandarin. And how basically all modern plums in the U.S. originate from the plant breeding of Sonoma County's own Luther Burbank (my wife and I lived on the same block as the Luther Burbank Gardens for a number of years; it was also the first time I had allergies). Overall, the book succeeds in bringing to life the many historic and contemporary ties between the plant world and the alcoholic beverages we love.
Have you checked out The Drunken Botanist yet? Found other good beer-related books over the last year you think are worth digging into? Let us know on Twitter via @RareBeerClub.