Beer Club Gift Ideas for Craft Beer Lovers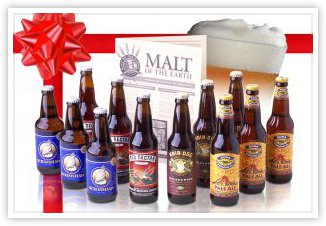 Finding just the right, truly memorable beer gift idea for an anniversary, holiday, or special occasion is no small task among the many bottle openers, beer glasses and steins, t-shirts, and of course, the vast array of craft beers available in specialty shops. And don't get us started on gift baskets – we can tell you all about why a monthly beer club is better than a beer gift basket. Instead, we invite you to let us remove the risk of choosing the best gift and give what any self-respecting beer lover would appreciate the most…award-winning, hard-to-find, craft beers from the world's most respected breweries.
For over 20 years now, The Microbrewed Beer of the Month Club™ has done just that, creating personalized, memorable beer gifts that are appreciated long after the first shipment arrives. Our dedication to providing outstanding craft beers and excellent customer service has earned us an A+ rating from the Better Business Bureau and why 98% of our customers highly recommend us.
Save up to $25 on a Beer Club membership!
The U.S. Microbrewed Beer Club

When it's time to buy a great beer gift for friends and family, consider The U.S. Microbrewed Beer Club! Each month, your gift recipient will receive twelve craft beers (3 bottles in four different styles) from today's top U.S. craft breweries. It's a gift any craft beer fan won't soon forget.

The International Beer Club

If you know a craft beer lover that's more interested in imported beers, then gifting them a membership to The International Beer Club is your best bet! Members get twelve craft beers (6 bottles each of 2 different styles) chosen from the world's finest international breweries, including breweries in Germany, Scotland, England, Belgium, and more.

The Hop-Heads Beer Club™

True IPA fans are a tough crowd to please, but with a membership to the Hop-Heads Beer Club, you or your favorite hoppy beer lover will finally be satisfied. Each month, you'll get 12 beers: four bottles or cans of three different IPAs, IPLs or other hop-forward beers from both U.S. and International craft breweries.

The U.S. and International Variety Beer Club

For beer enthusiasts who want the best of both worlds, consider our most popular club, The U.S. and International Variety Beer Club! Gift recipients get six U.S. craft beers and six imported beers (3 bottles in four styles each month) sourced from the world's best breweries.

The Rare Beer Club®

As the world's most exclusive beer club, The Rare Beer Club sends limited-release, artisanal beers often produced for, and available only to, club members. Each month, members will receive two, four, or six 750ml. bottles of rare craft beer from top U.S. and international craft breweries.

Design Your Own Club™

Why not combine our four beer clubs into one gift membership with our Design Your Own Club™ program? With the DYOC, you can customize your beer subscription membership by adding monthly selections of cheese, cigars, wine, chocolate, and flowers. How you create the club is entirely up to you!
Giving the Gift of a Beer Club Membership is Easy, Affordable and Memorable
Choose from 4 unique beer club membership types to meet your budget and suit all palates. If you're an IPA lover, we even let you customize your own personal IPA-only beer club!
Send anywhere from 2 to 12 shipments, sending every month, every other month, quarterly or on specific months you choose and your thoughtfulness will be remembered long after the first shipment arrives.
Use our Design Your Own Club™ program to combine our five beer clubs into a single membership or combine a beer club membership with any of our other five monthly clubs, including our Flower of the Month Club!
Order easily online or toll free in minutes. Use our promo codes to save up to $25 on your order.
Print out or email a customized gift announcement now or on the date you choose. No gift wrapping or waiting in line ship your gift.
Best of all, rest easy knowing that we're going to make you stand out by shipping an assortment of expertly selected, hard-to-find craft beers throughout the duration of your gift.