Beer Gift Ideas for Mother's Day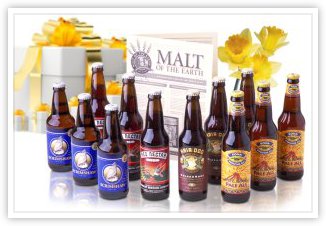 It's a given fact that most Moms are hard to shop for, but if your Mom loves enjoying a craft beer or two, then you'll find the perfect Mother's Day beer gift with The Microbrewed Beer of the Month Club™!
Whether you're searching for a Mother's Day gift idea for your beer-loving wife, your mother, or your mother-in-law, you can rest assured knowing that The Microbrewed Beer of the Month Club has spent the last 20+ years proudly helping families celebrate Mother's Day. A membership to one of our four craft beer clubs allows you to show Mom that you don't just appreciate her on one day in May each year, but throughout the year. Let us do the groundwork for you by delivering what any beer-loving mom would appreciate roughly 1,000 times more than another cookbook or beer gift basket: award-winning, rare, craft beers delivered right to her doorstep each month.
Save up to $25 on a Beer Club membership!
The U.S. Microbrewed Beer Club

Does your wife or Mom love seeking out the best craft beer from around the country? If so, then you'll find that our U.S. Microbrewed Beer Club is the right choice! With twelve bottles in four different styles from four different American craft breweries, she'll have trouble deciding which beer she wants first and whether or not you get any.

The International Beer Club

For Moms who love to travel and try new things, nothing beats The International Beer Club! Featuring twelve bottles in two styles from among the world's best foreign breweries, your Mom will be able to try something new and adventurous without having to leave the country.

The U.S. and International Variety Beer Club

If your Mom is more about getting the greatest variety, then our U.S. and International Beer Club is the best choice! With six imported beers and 6 U.S. craft beers in 4 different styles, your Mom will remember you every time she tries a new and exciting beer.

The Rare Beer Club®

Some Moms love to discover and try only the most exclusive rare beers, and if that describes your favorite beer lover, then we suggest The Rare Beer Club®! With two to six bottles of astoundingly good rare beer shipped directly to her door each month, your Mom won't soon forget exactly how much you love her (and how much she loves beer).

Design Your Own Club™

If you can't decide which beer club is the best choice for your Mom, then we suggest creating a club as unique as she is with our Design Your Own Club™ program (DYOC)! With the DYOC, you can pair craft beers with flowers, hand-crafted artisanal chocolates, red and white wines, farmhouse cheeses, and even cigars. Create a club that perfectly reflects your mother today!
A Beer Club Gift Membership is Easy, Memorable, Affordable
Easy is Key When You're Short on Time —

Even the most considerate husbands tend to get caught with little time to find a great gift. Order online in minutes. No driving to malls or flipping through catalogues. And most notably, no wrapping.
You can use our beer of the month promo codes to save up to $25 on your order!

Easily Create a Custom Gift Announcement in Minutes —

Personalized gift announcements can be printed or emailed on the date you determine.

Create a Custom Membership and Send More Than Just Beer —

Use our Design Your Own Club™ program to combine any of our beer clubs into a single membership or get creative and combine a beer club membership with our wine, cheese, chocolate or flower clubs.

Celebrate Mom All Year Long on Any Budget —

Give anywhere from 2-12 shipments and send them monthly, every other month, quarterly or even on specific months that you determine.

A Beer Club Mother's Day Gift Membership Keeps You in Touch —

Trust us, she'll call you every time her shipment arrives, and maybe even after trying each new beer.