Father's Day Beer Gifts for Dad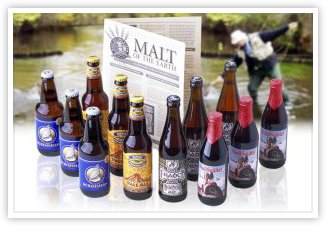 All your life, you drove your Dad to drink.  Maybe it's time you had some delivered! This year, why not get him a Father's Day beer club membership from The Microbrewed Beer of the Month Club!
Whether you're looking for cool beer gifts for your Dad, husband, or father-in-law, finding a great-tasting craft beer gift that he'll really appreciate is no small task.  Do Dad a favor and resist sending cliché beer glasses or a cheap beer gift basket full of Bud, Corona, and other tasteless macrobeers this Father's Day. Instead, give him a gift with true quality, character, and value: a subscription to The Microbrewed Beer of the Month Club™, the best place to find unique, highly rated craft beers that will satiate your favorite beer lover. Let us to the legwork for you by finding the perfect beer gifts for dads not just on Father's Day, but one that's delivered throughout the year.
Save up to $25 on a Beer Club membership!
The U.S. Microbrewed Beer Club

If you're after the perfect Father's Day present for the old man, then pick up a membership to The U.S. Microbrewed Beer Club! Your Dad will love finding twelve high-quality craft U.S. beers in four different styles on his doorstep each month. He might even share if you ask nicely.

The International Beer Club

If your Dad loves craft beer, but really enjoys getting his suds from mysterious, far-away lands, then The International Beer Club is the best beer club for him! With twelve bottles of foreign-brewed beer each month in two different styles, your Dad will be able to enjoy the world's greatest beers in the comfort of his armchair.

The U.S. and International Variety Beer Club

Maybe your Dad is a "best of both worlds," kind of guy. If so, then The U.S. and International Variety Beer Club is the perfect Father's Day gift! With six U.S. craft beers and six international beers in four different styles, you'll be able to show Dad that language isn't a barrier for great beer.

The Rare Beer Club®

For the ultimate in Father's Day beer gifts, look no further than The Rare Beer Club®. Each month, your pops will receive two to six bottles of the world's best small-batch craft beer from U.S. and international breweries, including beers that you can't find anywhere else. No Dad can resist a gift so rare!

Design Your Own Club™

If your Dad likes pairing his craft beer with a hand-rolled cigar or some gourmet cheese, then our Design Your Own Club™ program is the perfect way to keep him stocked with everything he needs! A Design Your Own Club membership means you can create a personalized beer club subscription that's combined with high-quality cigars, farmhouse cheeses, decadent chocolate, rare red and white wines, and even flowers. The choices are nearly endless, just like your Dad's bad jokes.
A Beer Club Gift Membership is Easy, Memorable, Affordable
Four Unique Beer Clubs to Suit Dad's Palate —

Choose from 4 beer club options, including The Rare Beer Club™, to match Dad's tastes. You can also use our beer of the month club promo codes to save up to $25!

Last Minute Ordering and Gift Announcements —

Order online in minutes. No flipping through catalogues or driving to mall…and no wrapping. Print a personalized gift announcement now, or email it on the date you specify.

Any Budget Allows You to Celebrate Dad More than Just Once —

Send anywhere from 2 to 12 shipments and ship monthly, every other month, or even on specific months you choose.

Create a Custom Membership by Combining Our 6 Monthly Clubs —

Our Design Your Own Club™ program allows you to combine a beer club membership with any of our other five monthly clubs.

A Beer Club Father's Day Gift Membership Keeps You in Touch —

Trust us…he's going to call you every time be breaks into a new India Pale Ale, Dopplebock, Milk Stout or Bavarian Hefeweizen.