Wedding Beer Gift Ideas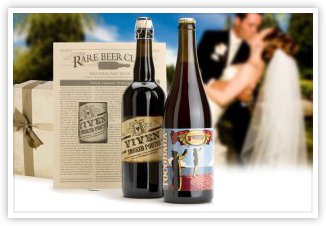 Shopping for a great wedding gift is a tough job, particularly since the whole idea is to find a gift that can help newly married couples get off to a good start. You know the newlyweds will be given more towels, dishes, and appliances than they can possibly use in a lifetime, so why not give them a membership to The Microbrewed Beer of the Month Club™, a gift they can enjoy together for months to come?
With The Microbrewed Beer of the Month Club, the happy couple will receive professionally curated national, international, or rare craft brewed beers they can drink together, including highly coveted IPAs and other hoppy beer styles found in our new Hop-Heads Beer Club. Plus, you can combine the newlyweds' beer club with our cigar, cheese, wine, flower, or chocolate clubs for a truly unique gift through our Design Your Own Club™ program!
Your wedding gift shouldn't be something they'll expect – give them a gift that they'll both love with The Microbrewed Beer of the Month Club.
Beer Gifts for Groomsmen
Your groomsmen are your best friends, and we all know what best friends really want: beer. You need to find them a great groomsmen gift, one that really thanks them for being in your wedding, but you know a cheesy beer gift basket or another bottle opener won't work. When it comes to a great beer gift for your groomsmen, nothing tops a membership to our monthly beer club. We're confident they'll like it so much that they'll even ask you stand up their wedding (just don't drink their beer).
As for the almost-married couples, don't forget to add a membership to The Microbrewed Beer of the Month Club, or any of our other monthly clubs, to your wedding registry! Simply call us today at 800-625-8238 and we'll make sure that your wedding guests buy the gift you truly want – high-quality craft beer delivered straight to your door.
A Beer Club Membership is Easy, Memorable and Affordable

Skip the stores and complete your order in minutes either online or over the phone.
Choose between a printed or emailed personalized gift announcement for the couple.
Select which months to send beer, and pick how many months' worth of beer you'll send.
Use our Design Your Own Club™ program to pick and choose the right wedding gifts.
Rely on The Microbrewed Beer of the Month Club™ for a wedding gift they won't forget.

See What A Happy Couple Thinks:

"What could be better than hooking up your best mates with beer for a year? I wish it were my idea, but one of my buddies gave me a beer club membership when I was in his wedding years ago and I couldn't think of a better groomsmen gift for my wedding. I couldn't afford to do a full year for everyone so my best man got 12 months worth, but I just set the other guys up with 6 and shipped it every other month so it lasted a year. Perfect solution. It's been three or four months now and I get a handful of calls every month to thank me for such a cool gift. I signed myself back up so I would get what the boys were getting too (yeah, that's why I did it) and have been digging the beers big time. Keep up the good work!"

William Tanner, OR

Read More Testimonials
Finding the Right Beer Wedding Gift with The Microbrewed Beer of the Month Club™
Do you want to learn more about our beer club memberships and other great clubs full of quality wedding gifts? If so, visit our
Beer Club Subscription
page to find the right beers for the happy couple.