A Beer Club Membership is Easy, Memorable, and Affordable
Don't spend your time stuck in multiple stores. Order online or over the phone quickly and easily.

Select either a printed or emailed personalized gift announcement for the recipient.

Choose between 2 to 12 months of deliveries, and then pick which months you want the shipments sent!

Pair a Beer Club Membership with our other subcription box clubs through our Design Your Own Club™ program.

Help ensure the beer lovers in your life will always remember that special birthday with The Microbrewed Beer of the Month Club™.
Customer Testimonials
"I have to admit that getting a new shipment delivered every month is like Christmas morning 12 times a year."

Scott Centea, NC
"Thank you for so many great beers. You've made my husband very happy, you've made me Wife of the Year..."

Lesley Gwin, FL
"I've been a member for 12 years & enjoyed it so much, I added a 2nd membership to The Rare Beer Club."

Cody Christman, CO
"You guys are doing a wicked pissah job (that's New Englander for very awesome).."

Adam Burnett, MA
"Thank you for bringing the love of beer into our home and bringing friendships close together."

Sherea Malcolm, NJ
"Many of us have exotic tastes in beer and the BOTMC has still opened our eyes to new beer horizions."

Don Clutterbuck, NY
Read more testimonials
Need More Information on The Microbrewed Beer of the Month Club™?
Need more information on the best beer clubs for your beer lover's birthday? Visit our Beer Club Subscription page to find the right beer club for their particular tastes.
The Microbrewed Beer Of The Month Club
A variety of premium craft beers, hand selected by experts, each month.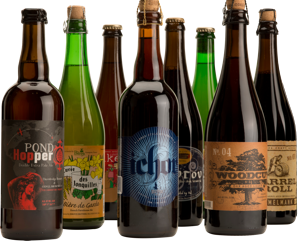 Responsive Customer Service
Our friendly and knowledgeable customer service team will help you with any questions. You may also place orders over the phone.
Mon-Fri, 7am - 5pm Pacific
Sat-Sun, 8am - 12pm Pacific
Rated Customer Service
Assuring satisfaction to over 2,000,000 CUSTOMERS since 1994 has earned us an
rating from the BBB. A BBB Accredited business since 10/05/2005
View Our Profile
100% Satisfaction Guarantee
Our 100% satisfaction guarantee ensures that every item you purchase at The Microbrewed Beer of the Month Club meets your high standards or we will replace it or refund your purchase.