Birthday Beer Gift Ideas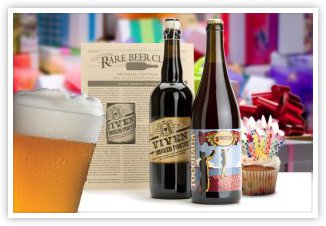 A birthday is an important event celebrated only once per year (unless you're all about birthdays). It's a special day, and finding the right beer-related birthday gift for the birthday boy or girl in a sea of bottle openers, glassware, and breweriana can be a difficult task. You want a present that will stand out and be memorable, and can only hope that they don't already have what you find, which just adds another layer of stress you don';t need. But, it doesn't have to be that way.
Instead of hunting down a funny can coozie they'll forget about or buying an overly priced neon sign they'll hang on the wall and ignore, give the birthday boy or girl exactly what they really want: beer. Membership to The Microbrewed Beer of the Month Club™ will make your beer lover appreciate your generosity not just on their birthday, but well after it's passed. A monthly beer club is always better than a beer gift basket full of flavorless macrobrews like Bud and Corona. Rest Assured that we'll make sure that each and every craft beer you give is highly rated, unique and flavorful, the three features any true beer connoisseur looks for.
A Beer Club Membership is Easy, Memorable, and Affordable

Don't spend your time stuck in multiple stores. Order online or over the phone quickly and easily.
Select either a printed or emailed personalized gift announcement for the recipient.
Choose between 2 to 12 months of deliveries, and then pick which months you want the shipments sent!
Pair a Beer Club Membership with our other monthly clubs through our Design Your Own Club™ program.
Help ensure the beer lovers in your life will always remember that special birthday with The Microbrewed Beer of the Month Club™.

Hear What Our Customers Have to Say:

"I was first gifted a membership two years ago by a very cool boss. Then, when my girlfriend and I moved to a new apartment shortly thereafter to be closer to work, we didn't know anyone in the local area. Lucky for us we made fast friends with our upstairs neighbors, using our monthly shipments as the ice breaker. My now wife, Marisa, and I are in the back of the picture, with our now closest friends, Sara and David, joining us in our monthly beer tastings. Thanks so much for the monthly adventures around the country that have helped us find two of our best friends! All four of us now look forward to delivery days! Thank you!"

Andrew Tenn, CA

Read More Testimonials
Need More Information on The Microbrewed Beer of the Month Club™?
Need more information on the best beer clubs for your beer lover's birthday? Visit our Beer Club Subscription page to find the right beer club for their particular tastes.