Christmas Beer Gift Ideas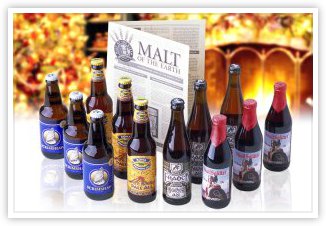 The holiday season is a time when we gather with family and friends for the feasts, festivities and merry times we look forward to all year. It's a time for fun, a time for making memories, and a time when small batch holiday spiced ales, such as Mikkeller's "Santa's Little Helper," are finally opened, hoisted high, and shared with fellow beer lovers… or those we wish to become beer lovers.
For over 20 years, The Microbrewed Beer of the Month Club™ has helped make these holiday moments special. When you start thinking about what to get for the beer lover in your life, let us do the legwork for you and ensure they get the Christmas beer gift they've been hoping for: exceptional craft beers from the world's best breweries delivered right to their door every month. After all, it is the season of giving.
A Beer Club Membership is Memorable, Affordable and Easy

No stores, no lines and no hassle – Order online or over the phone in minutes. Use our promo codes to save up to $25 on your order.
Write a custom gift announcement with the option to email or print your message.
Choose anywhere between 2 to 12 shipments, then select when you want the deliveries to arrive.
Combine a beer club membership with our other monthly clubs using our Design Your Own Club™ program.
Create great memories and provide delicious craft-brewed beer well after the holidays.

Hear What Our Customers Have to Say:

"I have to admit that getting a new shipment delivered every month is like Christmas morning 12 times a year. I usually cherish the beer by myself or with my closest friends. I'm selfish when it comes to beer this good. However, I did decide to share my shipment with my Father-in-law! I figured what better way to get on his good side than to share a Belgian Ale from Bavik with him. We're both smiling because he got to taste one of my cherished beers and because I now think he finally likes me. I guess I'm worthy of his daughter when I share beer this good. Thanks for making it Christmas year round for me, my friends and family!"

Scott Centea, NC

Read More Testimonials

Learn More about The Microbrewed Beer of the Month Club™
Visit our Beer Club Subscription page to learn more about our excellent monthly craft beer selections and find the right club for the beer lover in your life.